AOC's Portable Monitor

The AOC Model E2251Fwu Portable 22inch LCD display can be configured to work as a duplicate monitor to that on the PC or to provide an extended display so that it is a versatile solution for those who need to be able to use large spreadsheets or give presentations when away from their home base.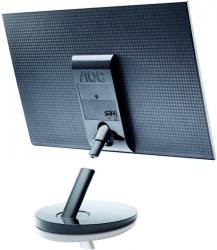 click image to enlarge
The monitor provides a full 1080p display in the 16:9 format and is unusual in that it draws its power from the USB ports of the PC to which it is attached. Roughly 51 x 32cm in size and just 10mm thick over most of its area and only about 25mm at its thickest and weighing a little over 2.5kg it can easily be carried under one's arm even though, obviously, care must be taken not to damage the screen. The screen has a matt non-reflecting surface and its black bezel is about 15mm wide on three sides and 35 mm on the bottom edge. As a portable monitor it is normally just stood on the desk with a stub at the rear acting as a prop.
When it is intended to use the display in just one place for a considerable period the provided stand, which provided a limited amount of viewing angle adjustment, can be attached to this stub. While this can be done without the need for any tools I did find it quite a tight fit so that it was not easy to remove.
Being able to just prop it up makes it quick and easy to set up and connect to the PC's USB ports. As it would impose too large a power drain on a single USB port, a special cable is provided with two USB connectors at one end and a single one at the other. Despite being over 1 metre long, it could usefully have been an extra 20 or 30cm longer to provide reasonable flexibility in locating it in relation to the PC to which it is attached. An external 5V d.c. supply (not provided) may be used so as to free up one USB port as well as conserving battery power when it is connected to a laptop. Nevertheless, power consumption of 10W when On and less than 1W when on Standby is not excessive.
I found that although the display, with its LED backlight, had a similar level of brightness to a laptop screen, as one would expect, this appeared less than one would get from a desktop monitor. Nevertheless, it was more than adequate for most purposes and the colours appeared realistic.
The design of any portable product is a trade-off. The E2251 is a niche product and its unique features will not be of importance to everyone. It should, however, be considered by others on the basis of it being light in weight, portable and being quick and easy to connect and therefore a important tool for those who need the extended display while on the move. It is currently priced at about £150 on Amazon but this could well fall in the not too distant future.