Sennheiser Momentum In-Ear Wireless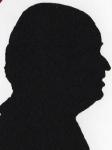 Until earlier this year I thought of Sennheiser for quality headphones, then I reviewed the Flex 5000 which came with a set of earbuds, since then a pair Sports buds and now this Bluetooth offering to give you total freedom of movement.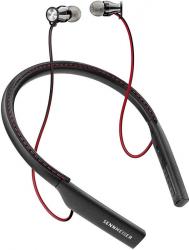 click image to enlarge
As regular readers will know my ears often swell after an hour or so of use of earbuds so I tried the smallest buds supplied thinking they would not be big enough however because there is little of no weight on the buds as you wear the control unit around the neck like a collar (open neck) the short length of cord between the neck and the ear is not load bearing.
The claimed time between charges is 'up to ten hours' in fact the best I got was close to twelve hours in a continuous test it was eleven hours and forty minutes, so there's one big tick.
They are light which for me is a big plus as I have enough weight in my own body.
The total weight of the padded horseshoe type collar with the two earbuds and lead is only 51 grams. However the leads and buds only weight 6 grams.
This sentence on the Sennheiser website sort of sums this product up so I am quoting it 'Enjoy wireless freedom and unadulterated in-ear sound reproduction the MOMENTUM way: Ultra soft sheepskin nappa leather stitched onto the neckband. Precision milled stainless steel sound tunnels, mirrored chrome finish on the earpieces, tough, impact-resistant polycarbonate elements, and, of course, the fabulous sound and state-of-the-art wireless technology to match'.
The leather headband (horseshoe) is 17 cm from parallel base to top. Each bud is at the end of 21 cm of lead but the first 7 cm of this runs parallel to the horseshoe as it emerges near the top of the 8 cm rectangular section that is close to 2 cm wide and 1 cm thick, the rest of the horseshoe linking the two ends is oval and as mentioned above stitched leather and around 1cm from side to side it has some padding built in.
These are probably the most comfortable buds I have worn and the Bluetooth reception is quite acceptable, however you really do not want outstanding Bluetooth from a phone or you are likely to move too far away from it and then someone could remove your phone.
The all black colour is fine broken only by the red stitching on the leather horseshoe and black and red leads to the earbuds.
The buds themselves are slightly curved and around 2.5cm long and around 1cm across but only the silicon tip goes into the ear canal.
There is a zip up solid case 20x17x2.5cm as the horseshoe unit does not collapse. I fear this case will soon be consigned to a drawer only to be taken out if you decide to use a different sized bud.
Sound quality within the normal Bluetooth range was excellent but do not think of these units for noise reduction so not perhaps the best for public transport but around the home or dare I say office fine just don't forget you have them on if you go to see the boss.
Sennheiser Momentum In-Ear Wireless are available directly from Sennheiser £169.99 or from Amazon for £164.99 both with free delivery.