Salter 60 Minute Mechanical Timer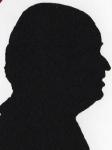 In a way a throwback to the past a mechanical timer which works solely by counting down from a set figure to zero and then ringing a bell to warn you, a simple process that should still enable you to extract things from the over without them burning.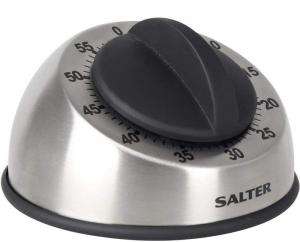 click image to enlarge
It is circular at 9.5cm and slopes up from the front where it is 2cm up to 5.5cm at the back. It is made of stainless steel with the twist arm plastic so both are wipe clean.
The clock is marked in five minute increments up to an hour with the areas between the numerals clearly shown by dashes so you could set seven minutes or forty eight minutes just as easily as five minutes or twenty five minutes.
This is not an expensive item and so sadly it has packaging designed to hook onto a rack in a retail shop which unfortunately means that industrial scissors are required to extract it and then landfill or possibly recycling for the packaging although only the insert card is marked 'widely recyclable'.
There is a multi-language instruction sheet that warns you if you do not fully turn the arm to one hour and then reset it to the amount you want that you will only get a shortened ring time.
So after a full twist and then reverting to the time you want you will get around 10 seconds of a loud bell that you should hear from a room or so away assuming you do not have headphones with louder music attached to your ears.
If you should ignore the warning message this ringing figure seems to halve for 30 minutes and halve again for fifteen minutes and as it is a mechanical mechanism, it is just winding a spring this will be correct.
The base has four tiny rubber feet attached to the plastic base and all sound emits from under the unit so placing on a solid surface will get a louder sound than placed on say a tea towel which will muffle the sound.
So is there a place for a mechanical timer in today's world you must decide I asked myself and came up with during a power cut but then the oven – unless its solid fuel or gas – would not work either.
However you may have other solutions that may find a use. It does come with a two year warranty.
The Salter 60 minute Mechanical Timer is available from Amazon for £10.41.