Riut Backpack R25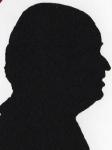 If you travel 'light' then the last thing you want is to wait ages at the baggage collection carousel for your one bag. The solution is a bag that is just within the legal size for carry-on luggage and that is the RiutBag R25 a substantial backpack.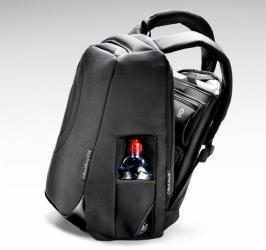 click image to enlarge
It is 50x37x15cm (maximum unfilled size) and weighs 1290 grams empty. The stated size is 55x40x20cm which I assume is when packed.
The material of the backpack feels solid and a close examination of the stitching and zips shows a well-constructed item and perhaps most important it is well padded at the points where it matters on your shoulders and back.
In fact when I opened the rear compartment – the one nearest your back - there is a label saying 'hand made by 18 people'.
There are two full depth pockets the back one 25cm across and the one piggybacking on that 23cm across. Next a zip up pocket 23cm across and 10cm deep with a similar zip up pocket 18cm deep below it. These can swing through 180 degrees for ease of access when the two zips are fully unzipped. At the top of outside of this area is a semi-circular pocket that you should only open either when flat or when flipped through 180 degrees as otherwise the contents will spill out. There are two well-padded half-moon shaped inwards straps with good support from a cross strap to hold them in the correct position for you, whatever your size and shape. The bass of the backpack is covered with a thick waterproof material for those occasions when you have to put it down.
The top has a well-padded carry handle. Towards the base of the sides are open grip pockets suitable for something like a water bottle.
Surprisingly – for me anyway – the other half of the backpack is open when you unzip the back with just a small 27x12cm zip up pocket so you need to take care when and where you open it or your socks shirt etc. will all fall out. However having just a single clip together link holding the contents in place can be a big plus as this area forms a cavernous space unfettered by any pockets meaning with size expansion it can accommodate larger objects.
Reading a sticker within the unit explains what Riut stands for…….
'Revolution in user thinking'.
The padded back area pocket will take a 15inch laptop or if you have a smaller one then the slightly smaller pocket would be ideal.
It is certainly different to any backpack I have seen before; the normal seems to provide so many pockets zips and clips for keys etc. that if you are looking for a ticket or even your passport you would incur the Roth of fellow passengers will you search through all the possible hiding places.
As this is so different from other backpacks you will have to decide if it is for you, a quality product is never cheap and while this is quality its difference is what you will need to consider carefully.
The Riut Backpack R25 is available directly from Ruit for £134.77 including delivery.