Phillips 4K and USB 'C' Panel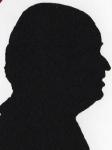 This panel could answer all your viewing requirements. It's big enough to watch a film comfortably and its range of connections work for a PC or a Notebook/Tablet and even your phone as it even has a USB 'C' connection. I used it in HD and a range of other screen sizes up to 4K and it can work in both landscape and portrait modes.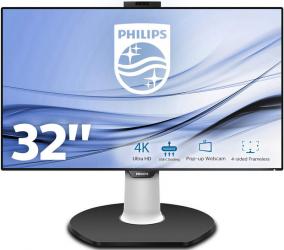 click image to enlarge
It is 71x41x1.6cm, its stand is circular with one edge flattened this makes it between 23 and 26cm across it raises the panel by between 5 and 24cm from your desk in landscape mode and up to 9cm in portrait mode.
The connections are in a line on the back; to the right of the connection arm is the mains lead. To the left of the connection arm are two HDMI then Display Port, USB 'C', Ethernet, four – two by two – USB ports and finally Display Port out.
The panel adjustments are on the back on the right side near the base.
As I tend to find with all Philips panels it automatically sets itself to 4K (3840x2160) on first connection if you want anything else then use the Windows adjustment in the tray.
The notional imperial diagonal screen measurement is 31.5inches. The screen goes to all the edges of the panel as unlike landscape only units when this is swivelled by 90 degrees you would certainly notice a larger border, especially if you have multiple screens.
This panel can be the only thing on your desk as the USB hub can have the keyboard and mouse plugged in. The USB 'C' port allows you to show the screen from your Tablet or mobile phone assuming the USB 'C' port on the phone supports signal out.
The Display Port out connection allows easy connection of the second panel and the unit even has a built in KVM switch so two machines can be connected. I remember the bulk of early KVM switches that had quite bulky cables and were sometimes problematic in use.
Like most recent panels it has 178/178 degree viewing angles so a presentation can be given to a good number of people gathering round.
Colour is excellent being both bright and vibrant. There is good colour depth so even blacks look good when watching a movie.
The top of the panel has infra-red sensors that detect a person's presence, if no one is detected the brightness and contrast is reduced to reduce your running costs by up to 80%, this returns to your normal level as soon as a person is detected again.
Of course low blue levels and flicker free display is there automatically.
Other features are a pair of 3 watt speakers which are fine for most uses, and there is a webcam with microphone built in something that a lot of panels do not always have on higher level panels.
The Philips 329P9H 32inch panel is available from the first link below for £783.59.
https://www.uk.insight.com/productinfo/id/0008787951-00000001
https://www.download.p4c.philips.com/files/3/329p9h_01/329p9h_01_pss_enggb.pdf