Philips P-line 241 P6EPJEB_00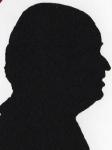 The lasest offering from Philips should be able to support you whatever connection you need as it has VGA, Digital, HDMI and DisplayPort not to mention a rather nice USB3 Hub. So whatever and however you connect you are supported here with this 23.5inch panel showing 1920x1080.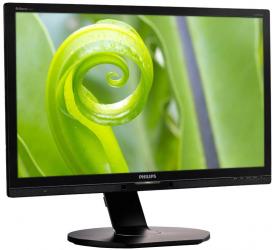 click image to enlarge
It is 56x35x1.8cm the last figure at the edges. The stand is a circle with a section cut off at the front so its 28cm side to side and just over 23cm back to front. It has a telescopic arm that can raise the panel from a minimum of 5cm above your desk to a maximum of 17.5cm. The arm does stay within the confines of the diameter of the base. The base of the stand is metal but there are seven circular 1.5cm diameter rubber feet around it to avoid any scratching and to make sure the unit stays where it is put.
On one side of the telescopic arm are VGA, Digital, HDMI and Display Port with headphone out and audio in 3.5mm sockets. The other side are on/off rocker and kettle style AC input socket.
The left side has four USB3 ports in two rows of two with a USB3 upstream port below it. All leads are provided in the box.
Under the screen is a 2cm extra strip running the length of the display with the two speakers and towards the right side five touch buttons to control the unit.
As with most modern panels the 'Auto' setting with whichever mode of connection I used gave the best result colour and contrast wise, the only adjustment I played with was for the rather good internal speakers.
The dreaded word these days is Blue light which has in the last couple of years become the dirty word of viewing and this of course has support to tame this beast. You also have flicker free resolution something we almost take as a given.
Something which cannot be taken as a given is Smart Image and this has different colour settings for Photo, Movie, Gaming and Office apart from a rather good Economy mode which of course can save you a little bit of money with the use of power sensors – up to 80% is stated - that detect if you at your screen and if not it radically reduces the intensity of the display a bit like your Smart Phone shortly before the screen blanks.
It is MHL certified so your mobile device should display correct on it.
This unit is also capable of working in Landscape mode should you wish and of course this is why there is so much height adjustment available.
I note from reading the specifications that Philips state their USB3 ports are 100% backward compatible with USB2, while I have never found anything that was not rumours still exist.
I enjoyed my test period with this quality product from Philips. One point that I bang on about a lot is that you only get one pair of eyes.
The Philips P-Line 241P6EPJEB_00 is available from the first link below for £230.10 including delivery.
http://www.amazon.co.uk/gp/product/B00ZKPB162?ie=UTF8&tag=gadge0a-21&linkCode=as2&camp=1634
http://www.philips.co.uk/c-p/241P6EPJEB_00/brilliance-lcd-monitor-with-softblue-technology