Philips Curved 27inch 278E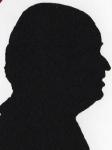 This is defiantly a curved panel which may seem a strange comment but a lot of earlier screens could almost look flat from not that far away, here this 27 inch offering could never be mistaken for a flat panel however far away you are.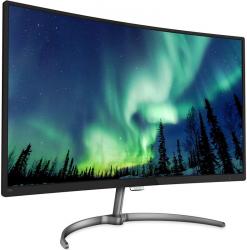 click image to enlarge
This Philips Curved LCD monitor (model 278E8QJAB) measures 61x36.5x1cm; the stand is an open half-moon 40cm wide and 19cm deep. The stand raises the unit by 11cm from your desk. There is a good amount of back tilt stated at 20 degrees and a little forward tilt stated at 5 degrees; there is no side to side movement. The centre of the screen is 2.5cm further in than the edges.
The viewable screen is 60.5x34.5cm which gives the notional diagonal imperial measurement of 27inches.
The connections are all in a single line at the back near the centre they are VGA (D-Sub), HDMI and Display Port, to the other side of where the stand connects is the DC input.
When first attaching I searched all around the edge for the on/off button for quite a time and found it on the back in the form of a push nipple.
I normally spend a good bit of my review fiddling with the contrast and brightness to see if I can improve on the 'Auto' setting, as this has no adjustments that part was not required.
My only problem with this panel was if I was sitting too close, displaying two vertical windows side by side worked well. If it is used with a single full screen window then the further away the better as otherwise the curve becomes a distraction rather than a help.
There is plenty of contrast and the colour is sharp and vibrant.
Once you are more than a metre away things look more 'normal' and watching a video or three becomes acceptable. I was pleasantly surprised that using HDMI the volume from the pair of 3watt speakers was better than you normally get and in a quiet room you should be able to follow a film soundtrack.
Why the curve for that explanation I went to the Philips website and they use the word 'immersive' and this they say focus you on the centre of your desk.
They make a big thing of colour stating vivid reds, deeper blues and more natural greens, that I would not argue with.
Other claims are the now normal 178 degree viewing angle and what they call a 'true to life picture' for both still and moving images.
Flicker Free is another claim made by all manufacturers and certainly I viewed images and text on the screen for long hours without noticing any eye strain.
Smart Contrast gives sharper blacks which in turn mean fewer shadows for those films where the man wearing black is normally near invisible in the shadows.
For those who use Display Port it is capable of supporting cables up to 15 metres in length without any performance drop off.
I remain sceptical about the benefits of a curved screen on a panel where you will normally be close to it, a curved TV where you sit well away from it then yes it can work.
The Philips Curved Screen 278E is available from the first link below for £221.99.
Philips Curved LCD monitor with Ultra Wide-Color 278E8QJAB
http://www.philips.co.uk/c-p/278E8QJAB_00/curved-lcd-monitor-with-ultra-wide-color