Mid-range Alcatel 5

Review controls
The Alcatel 5 is a mid-range smartphone with a 5.7 inch 18:9 display that has a reasonable range of features and ticks most of the boxes and so will be an attractive proposition for those on a budget.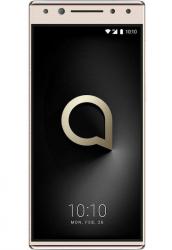 click image to enlarge
The phone which is roughly 150 x 70 x 9mm and weighs 145g has a 5.7 inch edge-to-edge 18:9 screen with 1440 x 720 resolution. Described as Metallic Black its matt black cover with horizontally etched lines provides a firm and comfortable grip while, at the same time, not showing finger marks. The top and bottom strips have a polished chrome effect.
On the right hand side is the power button and the volume rocker while, on the other side is the dual SIM carrier. When only one SIM is inserted, a microSD card of up to 32GB can be installed instead of SIM2 to extend the memory. The 3.5mm headphone jack is set into the top edge while the lower one accommodates the dual noise cancelling microphones. Between them is the reversible USB type C connector.
The rear autofocus camera, which has a resolution of 12MP (interpolated to 16MP), is located above the fingerprint sensor and, between the two, is the LED flash. As well as the camera being able to capture 1080p videos at 30fps it offers burst shot, panorama, slow motion, time-lapse and other modes. I found that it generally worked well for both indoor and outdoor shots.
Unusually, while it has a single rear camera, it has a dual front ones -- 13MP + 5MP (Interpolated to 16MP + 8MP) and so will suit those who take a lot of selfies. In this context, it automatically switches to 120 degree wide angle when it detects more than two people in the field. In addition, the front cameras are used for "Face Key" which uses facial recognition to unlock the phone. Although this is less secure – and you are provided with a warning to that effect -- than using a PIN or fingerprint recognition it is certainly quick and easy both to set up and use as, in use, just a second or so after one has pressed the power button the phone is unlocked and you are in business.
The 3000mAh lithium battery is claimed to provide a talk time of 30hours on 2G falling to 12 hours on 4G. Similarly, standby time ranges from 470 to 420 hours. However, in everyday use, it appeared to quite battery-hungry so if one spent a lot of time watching videos one has to make sure that one doesn't forget to put the phone on charge.
Under the heading of Smart Assistance, Joy Touch provides quick access to chosen shortcuts and apps. I found that it was useful as, on touching a grey on-screen button, which one could move around the screen, a ring of icons appear to provide rapid access to a number of pre-chosen apps such as torch, calculator, sound recorder etc.
This is not a premium phone and so one cannot expect premium performance. However, having 32GB ROM and 3GB RAM and running Android 7 (but not the more recent Android 8) on an octa-core MTK6750 processor one can expect and does get reasonable performance all round even though booting up from cold took the long time of about 90 seconds. Available SIM-free on Amazon for £179.99 it should suit those who want the wide range of features but are not power users who make heavy use of a smartphone.