Kardia Band for Apple Watch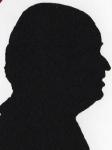 While the Apple Watch does what it does quite well it could do more for you especially if you have certain medical conditions so here is a band (strap) to attach to your Apple Watch to fill the void left by the basic Apple software.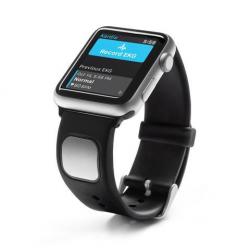 click image to enlarge
In the box are two part black rubber straps. The first 12cm long with a 1.7cm square hole cut just before the top it is 2.2cm wide. The second is the same width but slightly longer at 14cm, this a square metal disc in the same place as the cut-out in the first part strap.
So at this point you probably should download the Kardia App.
If you have had an Electrocardiogram in hospital you will know the amount of wiring that needs to be attached to you to give the results. I seem to remember one such where not only my trunk was connected but even sensors to just above my ankles.
For those with serious problems being able to take results when mobile is a huge plus and possibly enables you to lead a near normal life.
So once the strap is connected to your apple Watch and you have the Kardia Band downloaded and turned on you can then take an Electrocardiogram while out and about so no one need to know what is happening you just carry on with your life.
Details can be forwarded to your doctor and any problems can be noted and hopefully corrected of course knowing the details of where and when are important to see if irregularities that show up can be avoided by changing your routine.
There is a very good video at www.alivecor.com/quickstart that firstly shows how to remove the standard strap from your Apple watch and then attach either the shorter or longer strap provided with the Kardia Band. No tools are required as unlike most watches the band just clips easily in.
If you use the 14cm long strap then you are ready to go if you require the 12cm one then the sensor needs to be removed from the longer band but even this is simple just follow the video and you are ready to go.
The 4 minute video then covers setting up your account and perhaps the only place you could go wrong setting up your Apple watch to store the recordings which can then be analysed and if there was any problem you are told immediately.
Most should be able to use and store results after watching the video but if you need the full manual it is also available for download from a link given.
Certainly if all products had a video this easy to follow then I suspect a lot of companies technical support departments would be a great deal smaller as they would get fewer calls.
Being shown how to take your own Electrocardiogram while at your desk or at home means less false results that might be given from stress filled hospital visits.