Hannspree HP248 Touch Panel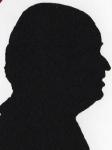 This is a compact panel that will turn your PC into a touch PC. Windows 10 was always marketed with the strap line of 'made for touch' and while a good number of notebooks have touch built in a far smaller number of Desktop offerings have that ability supplied as standard.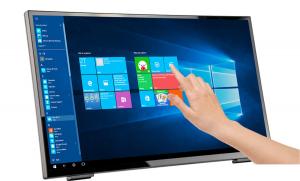 click image to enlarge
It is 54x31.5x2cm and has three sides of a rectangle metal stand that is 35cm wide at the base and the arms are 20cm long and fit into the rear of the panel so within reason you can decide the amount of back tilt for the panel.
The external connections are all in one line that resides on an overhang around 7cm up from the base. 3.5mm in and 3.5mm out, HDMI, DisplayPort and HDMI as well as DC input. To make this a touch panel needs USB and there is an upstream port as well as two USB3 ports.
Adjustmentss can be made using the five bar buttons that live on the right side of the back near the right edge. The internal speakers are better than most but still lacking in volume to fill a room but OK for personal listening.
Like a lot of panels this can be wall mounted via the four screw mounts on the rear. However for normal use I think you are better situated using on a desk.
OK some figures, like most recent offerings this offers 178º viewing in 1920x1080 the actual screen size is 23.8 inches with the now near standard 16:9 resolution.
10 point touch is available so almost anything available with a mouse can be done with fingers. When off the screen looks shiny and for some unknown reason does not seem to shown normal finger marks.
Should you wish part of the panel can become a Windows keyboard as with a Tablet but for any long document I certainly prefer a keyboard and being able to see the whole screen.
If you were using it for multiple input such as a kiosk then the hardness of the screen and its scratch resistance would also be vital. I am told it has a 7H hardness rating.
Being able to tilt the panel through 55 degrees means it can sit near to flat which if trying to use an onscreen keyboard is important. Hannspree suggest you think of it as a giant Tablet in this method of use.
I enjoyed my short test period with this unit and it turned my not that recent PC into a touch PC giving me the ability for touch in applications that benefit from that, it's certainly easier and quicker to move several windows around the screen using touch rather than using a mouse.
A decent 24inch panel would cost around £100 less than the price of this offering from Hannspree but probably without the USB ports or DisplayPort connection. So you should decide how useful touch is for you, if you can imagine a recent Tablet or Mobile Phone without touch and then let your thoughts go from there.
At the time of publication the Hannspree HP248 is available from Amazon below for £263.34.