HP Pavilion X360 Convertible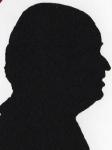 The word convertible brings my mind to cars where the roof opens out and in a way turning a Notebook into a Tablet is much the same transformation. This Pavilion unit from HP can be a standard Notebook however push the screen back through 180 degrees and you have a Tablet.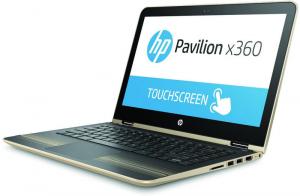 click image to enlarge
The HP Pavilion X360 Convertible laptop/tablet computer measures 32x22x2cm and weighs 1660 grams, the viewable screen is 29.5x16.5cm which gives the notional diagonal imperial measurement of 13 inches the native screen resolution is 1920x1080.
The whole outside of the unit is silver, the keyboard surround is matt black and the screen surround is slightly shiny black although it is a lot better than a lot at not showing finger marks, this last point is important for a Notebook but vital for a Tablet and while this is of course Windows 10 with touch it becomes a useable operating system.
It has an 83 key keyboard with the alpha and numeric keys being full size. Behind the keyboard is a 2cm strip with the Bang & Olufsen speakers, there is a 2cm strip on both the left and right side of the keyboard and an 8.5cm area clear in front of the keyboard with the 9.5x6.5cm touch pad mounted 10.5cm from the left and 12cm from the right.
Going round the edges on the left there is the on/off button with a pin hole LED beside it, next is a USB port and then 3.5mm headphone socket, next a volume rocker button and finally a hard disk activity LED. The front is clear. On the right side is an SD Card slot, two USB ports and then an HDMI out socket and finally DC input for charging. The rear is of course clear as the screen has to rotate 180 degrees to go into Tablet mode.
It comes with 8GB of RAM and has a 1TB hard drive. The processor is a dual core 2.3GHz Intel i5 with 3MB cache.
Bootup is around 16 seconds to Desktop and shutdown around 3 seconds again from Desktop.
It comes with a 64bit version of Windows 10 Home, Cyber Link Power Director and apart from various limited time trials you get 25GB of Dropbox online storage for a year.
The battery life is stated as up to 10 hours, in my tests I managed to get just beyond 8 hours but this included lots of downloads and other processor demanding jobs. The recharge time is stated as '90% in 90 minutes' I certainly did a full recharge from exhausted in two hours.
By default when you 'convert' to Tablet you will probably use it in portrait mode and the screen by default will auto rotate and you will get a chance to allow it to do this or to get it to stay in either Landscape or Portrait this is of course changeable at any time in settings.
When used as a Tablet you get an onscreen keyboard which should normally just sit in the tray, dependant on how up to date any non-Windows software is you may need to manually touch the onscreen keyboard icon to activate it.
While I am not normally a fan of 'extra warranty' I feel in the case of an item like this that goes everywhere the three year pickup and return service on the final link for £49 could be worth the money.
The HP Pavilion X360 is available, at the time of publication, from Amazon for £445.99 with free delivery.
http://store.hp.com/UKStore/Merch/Product.aspx?id=E9N51EA&opt=ABU&sel=NTB