A Camera Bag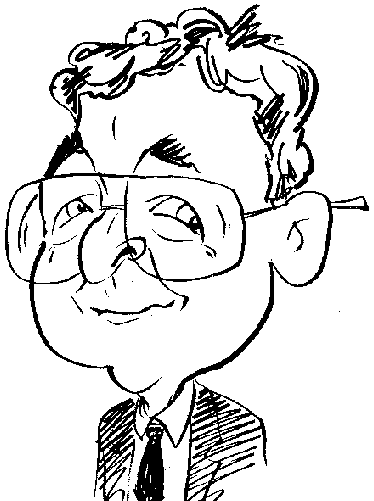 Review controls
Providing camera storage is a product from HEX.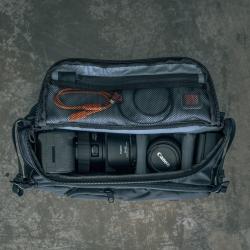 click image to enlarge
Although great strides have been made in the performance and capability of the photographic aspect of today's smartphones, the more serious photographer, whether of the professional or amateur variety, will prefer to use a Digital Single-Lens Reflex (DSLR) camera when capturing their images. However, rather than the easy convenience of slipping a smartphone into a pocket or the like, a DSLR camera will need a more substantial storage facility when not required. This is due to its bulk and its various accessories required to get the best out of the product.
One type of storage method could be a bag such as the Ranger DSLR Sling model from HEX. As its title indicates, this bag, coloured black, features a carrying sling strap that can be hooked over the shoulder for quick and easy transportation. With a centrally positioned cushioned pad, providing some comfort, the sling is adjustable to suit people of different sizes and body shapes. This combination of sling strap and actual bag element is constructed from premium, water-resistant 500D Cordura® nylon. The use of this material offers features such as stylish durability and lightweight strength while delivering a resistance to tears, scruffs and abrasions.
Built into this DSLR sling bag are various storage compartments for the photographic elements and other items you feel are necessary. Depending upon your needs, this camera bag offers an array of main and minor storage compartment areas. As part of this choice there is a fleece-lined compartment that feels so soft to the touch that I could not help accessing it for a pleasant sensory feel.
Next to this compartment is a multi-use main compartment. This area features configurable and removable partitions using Velcro fasteners and a meshed inner pocket for holding smaller items. Additional pockets provide storage space for items such as cables, small accessories, mobile phone, tablet and even a pair of sunglasses.
Apart from one slip-in pocket, which makes use of a Velcro fastener, all the other compartments have their entry being protected by genuine YKK zippers. These woven-in tough zippers are, so they tell me, manufactured using precision engineering processes that enable the zippers to pass abrasion tests and have been designed to lay flat while looking great. to the casual observer. In practice, the zippers ran smooth and caused no problems during the review process.
When not in use for transporting its various photographic and other types of content, this sling bag can be folded up to reduce its size while not being used for its prime purpose of carrying the necessary equipment. Helping the sling bag achieve this feat of reduced or diminished size is the product's fold-out bottom panel. This panel can easily be moved from its flat position to one that is more upright. Tightening straps can then be adjusted to reduce the size of the bag for flat packaging. These straps are positioned on the base and each side of the camera bag. The bag can then be restored to its more protective shape for storing equipment upon arriving at the destination.
While it will not enhance the performance of your DSLR camera, it will help keep kit together and provide a useful method of transportation. The HEX Ranger DSLR Sling bag has a price tag of £104.95.