FujiFilm Tough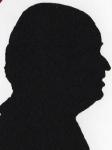 This small digital camera is made to withstand a tough life. It is also able to function underwater the claim is 15metres and the shock proof claim is 1.75metre drop, neither did I test but I take the manufacturers word, it has a bright yellow front just in case you drop it underwater.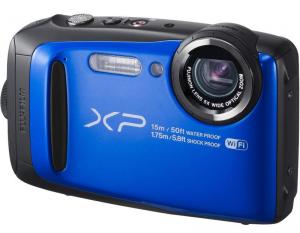 click image to enlarge
The Fujifilm XP90 rugged, compact digital camera measures 11x6.5x2.5cm and it weights 207grams.
Any camera that has a waterproof element needs to be well sealed which firstly means no visible movement of the lens when zoomed this is achieved by a periscopic movement within the case and the lens itself needs to be double skinned, next any part that opens IE the battery bay needs a good seal and a double lock.
So while most small cameras have the battery bay on the base here it is on the side and when opened not only does the solid battery and any SD card you use fit in there all external connections including power to charge said battery also live on this left side. The right side is clear and the base just has a tripod screw.
The face has the 5x optical lens and bar flash as well as the light meter in between these two items, the violent yellow of the face has a purpose that if you drop it in less than clear water it will still probably be visible, just do not drop it on its back as this the standard black.
The top has just three buttons, instant video capture, on/off and shutter release.
The back is dominated by the 6x4.5cm TFT display with the other controls to its right, at the top W and T buttons for the zoom, lower is image display, next the ubiquitous five position joystick and finally Wi-Fi and Back buttons. Finally the bottom right corner has a loop for the supplied wrist strap.
The only slightly unusual control is to get back from display to capture which requires a press of the shutter release which takes a while to get used to if you have used other small cameras.
This is a 16MP offering with a 28mm wide angle lens and 5x optical zoom.
There are 12 different still modes four each in L, M and S these are 4:3, 3:2, 16:9 and 1:1, each can be in one of two compression modes Fine or Normal.
Video can be captured in 1920x1080 @60FPS or 30FPS, 1280x720 @60FPS, 640x480 @30FPS or 120 FPS, and 320x240 @240FPS.
I was happy with all the still and video images that I captured both inside and outside, zoom is always something to be used with thought and any large zoom for video needs steadying and preferably a tripod.
While my tests did not do more than use it in a small pond and I did not test the stated ability to be dropped from 1.75 metres, this unit did all I asked.
There is a chunky manual but sadly this is 'safety notes' and only a quick start sheet in diagram form that should get even a total novice started.
The FujiFilm Finepix XP90 is available from Currys/PC World for £134.