An Office Multi-Function Device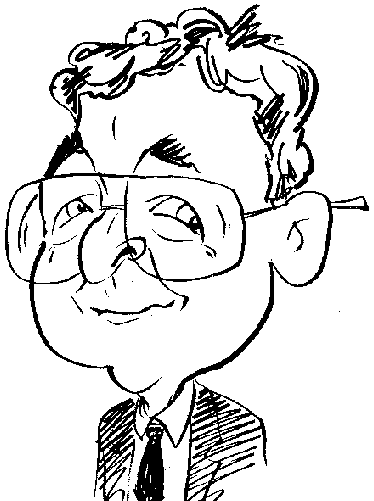 Review controls
Adding to its range of ink cartridge multifunction devices, Epson has developed its WF-3720DWF model.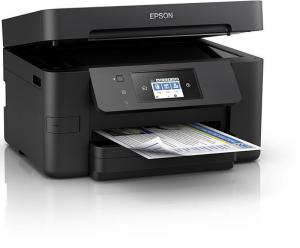 click image to enlarge
As its title might indicate, the Epson WorkForce Pro has been designed for use in a small busy office environment rather than a more subdued home location. I have been looking at the WF-3720DWF model which combines print, scan, copy and fax facilities within a single unit. Also included with its four-in-one functionality are features such as WiFi/Ethernet/USB connectivity, ADF (Automatic Document Feed), a Duplex facility plus remote printing.
Apart from an occasional matte silver logo and icon symbols, this All-in-One device is black in colour. It has dimensions of 449 x 417 x 243 mm (W x D x H) and weighs a reasonable 9 kg. The WF-3720DWF adopts the usual arrangement of paper trays (input and output) supporting a printer module which, in turn, provides the support for an A4 flatbed scanner that has an ADF unit built into its top cover.
The front-mounted input paper tray has a capacity of 250 A4 sheets of plain paper. Forming the top part of this input tray is a pull-out extension for supporting printed documents. Situated above the paper input/output trays is the unit's control panel. The panel can be adjusted to various angles to suit the user's needs and viewing conditions. Central to the control panel is a colour 6.3 cm LCD touch sensitive screen. Displaying menu options and feedback information, the screen is surrounded by touch sensitive buttons covering tasks such as power, smart device scan/print, Home, settings and Supply status. Generally the control panel worked well although I did find the numeric keyboard was a little cramped for my needs when entering data for the date and time settings.
Residing in a depressed well area, on the top of the unit, is the ADF feature. Capable of holding up to 35 sheets of A4 copy paper, the ADF can be used to send documents, with multiple pages. to the canner for the production of photocopies. The ADF feature can also handle Letter and Legal size media. Individual pages of a document on the ADF are automatically fed through to the A4 flatbed scanner. This CIS (Contact Image Sensor) scanner delivers a resolution of 1200 x 2400 DPI (H x V) before the data is sent to the printer to produce hard copy.
The WF-3720DWF printer module makes use of four inkjet cartridges which need to be mounted within the belly of the unit as part of the initial set up of the unit. Covering Black, Cyan, Magenta and Yellow, these ink cartridges contain Epson's fast drying DURABrite Ultra ink which is water, smudge and highlighter resistant. Making use of Epson's variable sized droplet technology, with a minimum droplet size of 2pl, the printer is capable of delivering a resolution of 5760 x 1440 DPI with a maximum duty cycle of 12,000 pages per month.
With a telephone line connected to the appropriate socket on the rear of the WF-3720DWF, you can make use of the 4-in-1's fax capability. This feature has a 100 names and number call book. It can handle monochrome and colour faxes with support for error correction mode. Up to 180 pages can be stored in memory. Support is provided for features that include auto redial and speed dial plus the ability to use the ADF module when faxing multi-page documents to various recipients.
Setting up this piece of kit involves a combination of working through the various screens displayed on the control panel and separate instructions delivered by the CD-based set-up procedure. Starting with the control panel route, you need to work through tasks that include selecting the language and region plus entering the date and time data. Once these tasks have been completed then the CD will take over. Various software elements will be installed and you can connect to a LAN via WiFi, Ethernet or USB before the rest of the software is installed. You might also find that a firmware update needs to be carried out. This situation occurred twice during the review period.
The print driver supplied with the WF-3720DWF comes with a variety of pre-sets plus the usual collection of Draft, Standard and High print qualities. Working with my regular monochrome and colour documents, I was able to achieve the print rates as seen in the table below.
Epson WorkForce WF-3720DWF

| Quality | Monochrome | Colour |
| --- | --- | --- |
| Draft | 38ppm | 14ppm |
| Standard | 33ppm | 13ppm |
| High | 5.5ppm | 2.5ppm |
Draft mode is only really suitable for checking out the layout of a document. Standard mode is fine for internal documents with High mode taking over for those documents produced for clients and the like.
Using the ADF in photocopy mode, a 7-page document was scanned and printed in one minute. A single page monochrome scan and print took 9 seconds and a similar colour scan and print required 13 seconds. With the printer's Duplex facility switched on, a 12-page document (6700 words) was printed on 6 double sided pages in 66 seconds.
The WF-3720DWF can also be used to produce photographic images. You are given the choice of two main methods of carrying out this type of task. You can either insert a memory card in a slot found on the front of the unit or using the supplied Easy Photo Print utility. I opted for the latter method. With a High print quality setting, prints were produced in 6 minutes 19 seconds (A4), 3 minutes 48 seconds (13 x 18 cm) and 3 minutes and 14 seconds (10 x 13 cm) for borderless photos. While the prints were of a reasonable quality, they did not quite match those produced by the Epson Expression XP-640 reviewed earlier.
The WorkForce WF-3720DWF would make a welcome addition to a small business environment. It is better suited to printing documents rather than photos. Currently this 4-in-1 device is priced at £139.99 with a multi-pack of cartridges available for £31.17.