Canon Pixma MG6853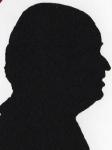 An All In One unit from Canon and instead of the standard dark grey colour the Canon Pixma MG6853 unit is cream so may just get past the lounge police. If not, as it has a wireless connection, you can always put it in a cupboard and as it has a special mode you can even print to it when it is turned off.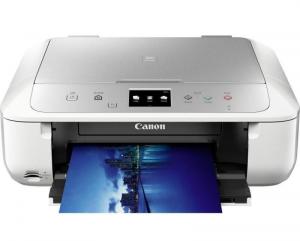 click image to enlarge
This Canon device measuires 37x45x12cm add another 8cm to the middle figure the depth to have A4 paper in the drop down front that forms the paper input tray. Paper should be placed in this tray face down and it is delivered face up onto the output tray when printed.
I no longer quote PPM times as the specifications are now done to a set standard so the days of a manufacturer stating 25PPM and you only getting 10PPM are long gone. What is still relevant is the time to first page out and assuming that you switch on without it doing a cleaning cycle the time taken from pressing print to a full A4 text page being produced is less than ten seconds.
My normal test place is under my desk in my office and as I am on top of any printer any excess noise would soon be noticeable.
The top of the unit is dark grey at the front are the six buttons spread across the front split by the 6x4.5cm TFT touch screen. There are nine icons; by default it will show the middle three Copy, Scan and Cloud. Flick your finger right to reveal ECO Settings, Quiet Settings and Setup. Flick your finger left to display LAN Settings, Advanced Print and Photo Print. Everything that does not need a PC is controlled from here so while of course you send documents from a PC you can also send them from a SmartPhone. Copying does not require the PC to be switched on or even connected. Scanning can be initiated from either the PC or the unit and while most would still scan to the PC you can scan to memory cards that can sit front left of the unit beside the paper input and output trays.
I found the scanning flatbed lying so far back a bit of a reach but then most will not review items under their desk.
Setup was not quick as although most of the files required are on the provided CD-ROM it insists on checking for updates online and doing a full installation including the excellent Canon Image Garden Software took just over a GB of hard disk space and a total of 36 minutes from the start of installation to a test print and head calibration check.
There are a range of modes to cover all eventualities, with three modes for each High, Standard and Draft. Unlike some other manufacturers whose draft mode is grey the Canon one is still black but for most documents the Standard was fine.
I do have a niggle with some printers that when paper is in the input tray the output tray does not open automatically this does not occur here as when you place paper in the input tray the output tray opens with it.
The Canon Pixma MG6853 is available from the link below for £108.54 including delivery.
http://www.amazon.co.uk/gp/product/B015D7FAFY?ie=UTF8&tag=gadge0a-21&linkCode=as2&camp=1634