Brother MFC-J5330DW 4-in-1

Review controls
The Brother MFC-J5330DW is a 4-in-1 multifunction device that can print up to A3 in size and is targeted at the small office.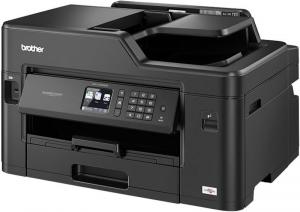 click image to enlarge
This is a solidly built machine that offers printing up to A3 in size in addition to A4 scanning, copying and faxing. It is 637mm wide x 467mm deep and 437mm high. With the rear single sheet feeder and the front paper catcher extended the total depth is about 70cm. When using A4 paper it is loaded in landscape orientation in the 250 sheet capacity main tray. The paper tray can be extended to accommodate A3 paper. However, in terms of document printing, although A4 duplex printing straightforward, I was unable to do automatic double-sided A3 printing.
The single sheet manual feeder automatically turns on as soon as paper is inserted into it. Unless one is using this machine as a dedicated A3 printer, it is likely that A3 printing will generally be done via this single sheet feeder. Both the main paper tray and the single-sheet feeder have readily adjustable guides for a range of paper sizes all the way from A3 down to photo sizes.
The top of the machine is dominated by the 50 sheet capacity ADF. It can, despite being quite heavy, be easily raised to access the platen when one wants to scan or copy from a book or something else which won't go through the ADF..
The virtually full width control panel can be swivelled up to a convenient viewing angle. At its centre is the 6.8cm colour LCD touchscreen. Alongside it are Home/Back/Cancel buttons and then the keypad for setting in the number of copies required as well as dialling fax numbers. As well as being able to send and receive faxes directly, using the 14,4kbps fax modem, additional iFax software can be downloaded from the solutions centre.
In view of its size, being black matt in colour, and weighing a substantial 16.9kg, the machine may not blend too easily in with normal domestic surroundings and so fits more comfortably into a small office environment where, once in place, it is less likely to be needed to shifted around.
There is a choice of Ethernet, WiFi and USB connectivity. It was a straightforward task to set up a WiFi connection which is a convenient way of providing multi-user access. However, I found that it was necessary to use an Ethernet connection, rather than WiFi, in order to carry out a software update.
The machine, which offers automatic duplex printing, employs pigment-based inks and provides a fundamental resolution of 4,800 x 1,200 dpi. The makers state that the print speeds are 22 and 20 pages per minute for B&W and colour respectively based on ISO/IEC 24734. While this is not really meaningful in the real world, it provides a reasonable standard of comparison with other machines. While photo printing is quite slow with an A4 print taking just under 4 minutes the results are good for a 4-cartridge system as is used in this printer which is, essentially, a business machine.
Brother offers both standard and high capacity ink cartridges. The former claim to have a 550 page life while, for the latter, the life claimed is 1,500 for the cyan, magenta and yellow and 3,000 for the black. It is more economic to use a set of the high capacity cartridges rather than the standard ones as, as well as being roughly double the price of the standard ones, there is also an appreciable amount of extra black capacity,
Copying options include colour/mono and enlarge/reduction. In addition there is a 2-sided copying facility. However, while the ADF is very useful for the copying, faxing or the scanning of single-sided multiple documents, it is only single-sided so dealing with double-sided documents requires manual intervention. While the scanning resolution with the original placed on the platen is up to 1200 x 2,400 dpi which I found gave very good results with photos, the resolution is up to 600 x 600 when using the ADF. This is more than adequate for many purposes as, for example, 300 x 300 is a commonly used setting for OCR. The only issue that I found was that, when using the ADF for scanning to PDF or for OCR etc., care was necessary in setting the paper guides to avoid skew. However, it is a boon when handling multiple documents.
Overall, the MFC-J5330DW, which has a list price of £190.80 but is available on Amazon for £118.99, could be a sensible choice for small business because, in addition to being a versatile A4 machine, it also enables the user to carry out A3 printing as and when needed.