Ben Q Panel GW2270HM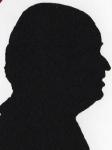 Having recently looked at various large and high resolution panels there is something soothing about a panel of average size with average resolution. This offering the GW2270 is exactly what the review below is all about, a 22inch panel displaying 1920x1080.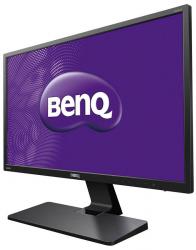 click image to enlarge
The display is 50x30x1.6cm the last figure at the edges, it has an 'L' shaped arm connected to a 28x12cm stand, the central 6cm is another 7cm deep to keep the unit stable on your desk. The notional imperial diagonal measurement is 21½ inches.
There is only a couple of degrees of forward movement and a good 15% of back movement. There is no side to side movement but as the unit is quite light it is easy to turn the unit and stand.
To the right of the support arm is a kettle style mains input. To the left HDMI, Digital and D-Sub (VGA) together with audio input for use with D-Sub.
Towards the right edge of the bottom of the screen surround are six raised pimples to control the unit and then nearer the edge a LED that glows orange whilst there is power going to the unit (green when the unit is on), this however you do not notice in a normally lit room but it shines like a beacon in a darkened room.
The units screen surround is grey at around 1.5cm top and sides and closer to 2cm on the bottom. While the screen is reflective it is far less so than some and providing you avoid direct sunlight falling on it the image is fine.
This panel is described as 'everyday enjoyment for leisure and business'. It has 3000:1 contrast ratio, has low blue light and what Ben-Q call 'eye care' so even after a full day – with breaks – looking at the screen you should not suffer eye strain.
The built in speakers are adequate when used with HDMI.
Almost all recent panels are described as 'Flicker Free' and that together with low blue light and eye care is the reason your one set of eyes given at birth need to be cared for as you cannot get replacements.
There are four settings from the pimples for Multimedia, Web-Surfing, Office and Reading, each has been designed for the job to be kinder to your eyes, I tested them all and even tried to improve – without success – to the settings it uses.
I tested all four modes mentioned in the paragraph above and also watched full screen TV using the recently reviewed TVPlayer to stream Live action to the unit, in fact I probably spent a lot longer than I should doing so but one has to test things thoroughly.
The 8-bit display also reduces bright whites and together with the claimed 178% clear viewing angle also gives an all round nice to look at offering.
I have never been sure why in a normal home or office environment you would ever try watching a panel from near the parallel to it but should you wish to risk damaging your back then you can.
The BenQ GW2270HM is available from Amazon for £97.64 with free delivery.
Full information is available from the Benq website.