Beldray Fan Heater from Wilko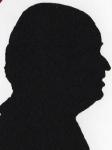 A few weeks ago I had a gas problem, when I realised it was going to take a while to fix I started to look around for other ways to keep warm in the mornings, at this time of year the afternoons are not a problem and nor are the evenings.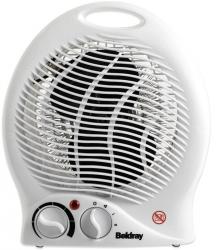 click image to enlarge
I have one halogen heater and while it could be moved around it's a pain to keep plugging and unplugging, so that sits in my office, so I needed something very portable. I took a walk around my local town and could not find anything suitable so while I was waiting for my bus home I popped into the local Wilko store as much to keep warm and out of the rain as anything and there at the end of an isle was this little Beldray Fan Heater.
It could not be more portable and it even has a carry handle so it does duty both in the kitchen and lounge.
Best of all apart from two heat settings it also has a no heat fan setting for those hot summer days to come.
I said best of all in the last sentence but possibly the price is even better but you will have to wait to the end for that.
It is 26x21x12.5cm and weights only 936grams including the 1.25metre long hard wired cord that emerges from just above the base. That perhaps is the only minus as a longer cord could have been useful.
It is amazingly stable and even if it was knocked over it automatically cuts out as on the base is a 2.5cm circular disk that stops power to it if not compressed. There are also two 1cm round rubber feet at the front corners to avoid scratching - should you stand it on anything - rather than have it on the floor.
There are two twist knobs with a small red LED between them.
The first knob is an adjustable thermostat and the second has four positions, off, fan, heat 1 and heat 2.
The two settings for heat are 1000w and 2000w; there is also a thermal cut out device. I can report that my feet were quite happy with heat setting one when this was within around four feet of me.
There is an A5 instruction manual as with all such items it is top heavy with safety instructions. Pages five and six should tell you all you want to know.
While this would never be enough on its own for a whole property in winter, a few extra layers of clothing and some extra brisk walks in springtime meant it was sufficient to provide extra basic heating for me.
Some fan heaters are noisy this one is not.
Now the bit you have been waiting for the price it is only £10. There is a £4 delivery charge if you buy online but I see if you have a local store and they are out of stock you can get delivery to your store free of charge.
http://www.wilko.com/heaters/beldray-fan-heater-white-10002000w/invt/0334610