Adam Elements Omnia TA502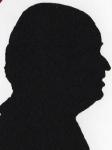 I did not know what the Omnia meant so I asked Google and now I have at least a dozen choices, none seem relevant to this tool I am looking at from Adam Elements, first it's a plug for the three main regions of the world which then accepts plugs from all over the world and for good measure has a couple of USB outlets built into its body.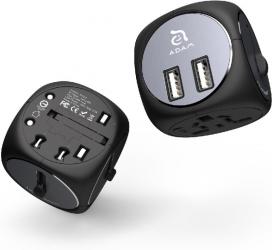 click image to enlarge
It is a 5cm cube, mine was red and it weights 96grams. Three of the sides have a slide down lever; the forth side has the two USB ports on. This leaves the top and the base, the top has a total of eight different cuts to suit the various world electric plugs. The base has six different plug ends level and then dependant on which one of the three slide down levers you have slid that plug end is ejected.
The only way to retract that plug is to partially slide one of the other two down and then the perfect cube is restored which makes it far easier to transport as nothing extends beyond the cube.
Also in the box are a drawstring bag for easy transportation and protection and one warning notice that you should not use high power items like irons, kettles and hair dryers.
The base of the box informs you how to cope with Swiss and how to twist the prongs for US or Australia. In total the back of the box states it can be used in more than 150 countries.
So perhaps I can offer a definition for Omnia as a 'useful tool for travellers'.
As my travels do not take me out of the UK these days I can only test the UK plug which allows power to the top and to the USB ports.
I did find a couple of problems the earth plug for UK use is just a plastic arm and that never fully extends or contracts by itself. Second there is no provision for the two prong round electric shaver plugs which is something that surely could be incorporated to save another separate adapter being carried by you on your travels.
You will of course still need to carry whatever leads your SmartPhone, Notebook or Tablet requires, however I might solve some of those problems with a cable from Adam Elements to be reviewed shortly.
This device allows UK plugs to work in large parts of the world and also allows you to charge anything that has a standard USB plug connection.
I think this is an extension to what regular travellers have carried for years or payed through the nose for at the hotel on their arrival, which they then need to do again if they go onto a different continent.
If the next version can also cope with the two prong round electric shaver plug then this product could solve almost all problems especially if sold with the lead I have already hinted about with a review to follow shortly.
The Adam Elements Omnia TA502 is available from the link below for $49.
http://www.adamelements.com/store/product_info.php?products_id=647&osCsid=6ljmmqgs58t07u2aimfc038i53