A Faster Nighthawk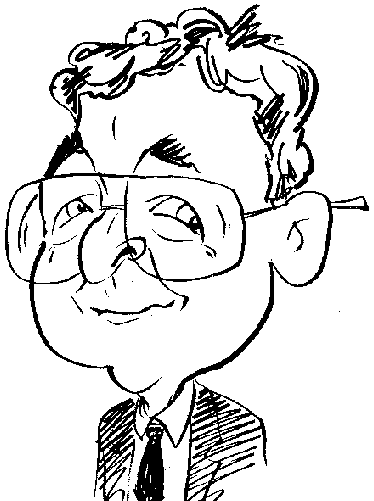 Offering to help reduce the bottleneck that can occur for those who are involved with streaming videos and on-line gaming activities is a modem router from NETGEAR.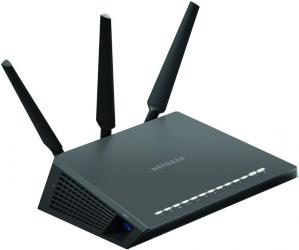 click image to enlarge
Sometimes the arrival of a new product for review brings back memories of an earlier period of my involvement in the world of computing. Such was the case with the NETGEAR Nighthawk AC1900 WiFi VDSL/ADSL Modem Router product. It was not the rather lengthy title of the product that triggered the flashback but more the promised download speeds of up to 1900 Mbps that brought back the memories of those early dial-up downloads using a normal phone line – watching paint dry was not even close.
This kit consists of the modem router unit, three attachable antenna blades, Ethernet cable, phone cable, DSL filter for use in the UK, power adapter with a 3-pin plug and a Quick Start Guide. When preparing this kit for use you will need to screw the blade-shaped antennas into the appropriate connection points on the rear of the modem router unit. The antennas can be adjusted to give the best possible signal with the recommended arrangement of the central antenna being positioned upright with the wingmen set at an angle of 45 degrees. You will also need to remove various pieces of protective cling film. Some care should be taken when removing the main cling film covering as this does contain the preset SSID and password for the unit.
Plinth-like in shape, the modem router has dimensions of 285 x 184.5 x 50mm (W x D x H). Arranged along the rear of the unit with the antenna connections are sockets for power, Internet, four Ethernet ports and a DSL port plus an on/off switch for the LEDs decorating the top front of the box and power. Running from left to right, these LEDs cover power, Internet, DSL, 2.4GHz WiFi, 5GHz WiFi, USB 3.0 port 1, USB 3.0 port 2, 4 Ethernet ports plus WiFi on/off button with LED and WPS button with LED. Located on each side of the unit is a USB 3.0 port.
This Nighthawk modem router is powered by a dual-core 1GHz processor with access to 256MB of RAM and 128MB of flash memory. Based on the power set up and the various connection options, the Nighthawk can offer WiFi 802.11 a/b/g/n with support for ADSL / ADSL2 / ADSL 2+ and VDSL / VDSL2 speeds. There is also a Gigabit WAN socket into which a cable modem can be plugged if such an arrangement is required to suit your Broadband connection.
When setting up the Nighthawk modem router detailed instructions are provided in the Quick Start pamphlet. If, by any chance, you have neglected to retain the SSID and password information supplied on the cling film for your particular product, then do not worry as this information is also provided on the base of the Nighthawk modem router. You can change these default items later using a NETGEAR genie application although the Quick Start pamphlet does recommend that you leave things be, as the details will always be there in case you forget them – useful if your memory is like mine.
The USB 3.0 ports found on the Nighthawk support ReadySHARE technology. This will enable various devices, such as an external drive for storage or a printer to be linked to the modem router when running on either Windows or Mac platforms. Windows users also get a free ReadySHARE Vault backup app for systems running Windows XP SP3 and later.
By combining its 2.4GHz and 5GHz features, the Nighthawk is theoretically capable of delivering a high point of 1900Mbps but real world experiences are somewhat different. This modem router can provide some impressive performances with speeds that will vary according to the circumstances depending upon the surrounding environment. Overall this Nighthawk sets a standard and raises the bar that products from other manufacturers could struggle to achieve. As you might expect the speed performance delivered by this Nighthawk kit comes with an appropriate price point but perhaps not as high as you might expect. A quick check on Amazon.co.uk revealed that this product was listed at £174.36 but you might find it at a lower price elsewhere for this well designed piece of kit.
http://www.netgear.com/about/press-releases/2015/D7000_PressRelease_06-15-2015.aspx