Roberts Stream 105 Internet Radio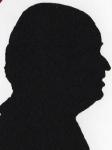 If you only listen to Internet Radio then this could be for you. It also means providing you have a decent Broadband connection almost any station anywhere in the world is available to you even if normal radio reception is naff.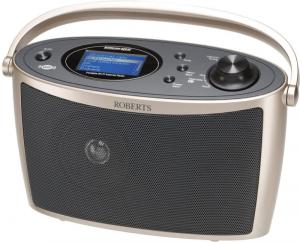 click image to enlarge
The Stream 105 from Roberts measures 26x8x15cm and weights 700 grams (without batteries). There is a 2cm difference between back and front and the whole unit is a stretched oval, with the carrying handle raised the height is increased from 15 to 21cm.
The rear has a battery bay should you wish to run it on 6x'C' cell batteries. Above this are USB (for upgrading only) headphone socket, auxiliary input and the DC input, the supplied lead 1.85 metres long, just adequate.
All the controls are on the sloping top. On the left the on/off button to its right the 5.5x25cm display. To its right in an inverse 'C' shape three well labelled touch buttons and finally a large turn knob at the top menu level used for volume.
My unit was predominately grey with a blue grey mesh on the front and grey blue sloping top with black buttons.
The unit comes with a 76 page 'A5' landscape manual that has plenty of illustrations to guide you through setup and then getting the best out of your Internet radio.
Once you have entered your wi-fi code you should easily be able to start listening, picking a genre and then finding dozens or hundreds of stations around the would that suit your taste in music. Delve into the manual to go further.
If your ISP gives you a download limit per month then you may be interested to know in my tests 60 minutes of listening is just over 20MB of data. This of course varies according to the bitrate that the station broadcasts at.
With thousands of stations available it can be useful to setup favourites so searching through a list of thirty of forty is a lot easier than thousands. There are also presets for even faster access. The radio also holds a list of recently listened stations.
Podcasts are popular today and this unit is one of the easiest I have used to find and stream those that you want to listen to.
It is possible to use this unit as a Music Player, instructions are given for Windows, MAC and Linux users. For the more technical you can access files by using Windows Media Player built into Windows 7 as a UPnP server.
If you have a suitable PC then it is possible to 'Wake On Lan' working and even shutdown, hibernate or standby.
It has two alarms and a variety of ways you can be woken. There is also the all important snooze timer that can be set for 5, 10, 15 or even 30 minutes. There is also a sleep timer with setting from 15 to 120 minutes available.
The unit has a 77mm speaker that gives a good clear sound, for stereo you need to connect earbuds or headphones.
One small feature I like was the ability to set the intensity of the backlight display both while the unit is on and separately while in standby.
Doing my Internet searches found the Roberts Stream 105 at £91.61 with free delivery.
http://www.amazon.co.uk/gp/product/B005842CD6?ie=UTF8&tag=gadge0a-21&linkCode=as2&camp=1634
http://www.robertsradio.co.uk/Products/Internet_radios/STREAM105/index.htm