Jabra for Skype and Visor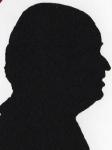 Two different products for two different market sectors the link they are both produced by Jabra. The first for conference calls including Skype, the second to fit over your cars sun visor to allow the user hands free phoning.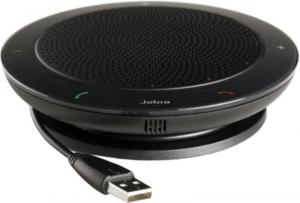 click image to enlarge
Skype Speak 410
This is a flat circular unit at 12cm across and it stands around 2.5cm tall, it comes with an 87cm USB lead hard wired that can curl round the base off the unit when not in use.
It has a small white LED when power is received, around the edge at 9 is a – sign to reduce the volume, at 3 a + sign to increase the volume, at 12 a microphone mute point and at 5 a call end button while 7 has the call start button.
Using it with Skype (it also works with other VOIP packages) you will need to select the name and instigate the call from your PC screen. However you can receive, answer and end the call without having to view your PC screen.
There is a Quick Start Manual (a small pull out sheet with illustrations) but if you already have Skype installed you just plug the USB lead in a start using it.
Should you wish to travel with this unit a zip up case is provided so it can sit in a bag or case and not be damaged.
The Jabra USB Speakerphone is available from the link below for £65.70 with free delivery.
http://www.amazon.co.uk/gp/product/B004FLIT6C?ie=UTF8&tag=gadge0a-21&linkCode=as2&camp=1634
http://www.jabra.com/sites/mobile/uk-uk/products/pages/jabra_speak410_for_pc.aspx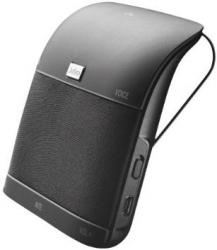 click image to enlarge
Jabra Freeway
First we must forgive the name; I assume it would be the Motorway in the UK. Now however the device itself this is a device that you setup and use, as it means you are hands free then there is no risk of points on your licence.
If you change phones then you pair it again. Do not worry that the instruction book is lost as when you turn it on the clear female voice talks you though pairing and even gives you the pairing code it really could not be simpler.
It is 12x10x1.5cm and with a nice solid metal clip on the back it will slip easily over all the sun visors I have tried, it is then held securely. The speaker is a 12x5cm area on the centre of the face. Three touch points above it, phone, FM and Voice. Three touch points below the speaker volume -, Mute and volume +. The only other items are on/off slider on the right side and beside this a micro USB socket. So even the controls are simple.
There is a Quick Start Guide that has six pages in English. This gives full details of how to control the unit by voice. Should you need it you can even pair it with a second device, useful if two people drive the same car.
The FM transmitter is interesting as it allows you to direct your car radio or phone output to the Freeway unit.
The unit is totally hands free as the Freeway unit will announce the caller and you answer with 'accept' or 'ignore'.
The Jabra Freeway is available from the link below for £67.49 including free delivery.
http://www.amazon.co.uk/gp/product/B004P8J47I?ie=UTF8&tag=gadge0a-21&linkCode=as2&camp=1634
http://www.jabra.com/sites/mobile/uk-uk/products/pages/jabrafreeway.aspx