Alcatel Pop2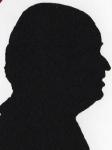 This small smart phone looks slightly retro but as mobile phones devolve so quickly it would have looked very modern not that long ago. So has this latest budget priced offering got something to make you switch for its charms?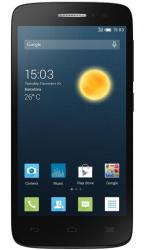 click image to enlarge
The Alcatel Pop2 smart Android phone measures 13x6.5x1cm and weights147grams. The viewable screen is 10x5.7cm which gives the notional diagonal imperial measurement of 4½inches.
Like most recent SmartPhones there are few external controls, the micro USB port – for charging etc – is on the base and the 3.5mm socket for headphones is on the top. The only external buttons are on the right side with a volume up and down rocker and the on/off button below this, everything else is controlled by the screen.
The rear has the camera top centre and an LED flash below it and towards the bottom on the right side of the back the internal speaker.
It comes with Android 4.4.4 which was about the last version before the jump to Android 5. This version does support Gestures but I always find these very person centric, but if they work for you then they should work with this unit.
There are a number of Apps already installed including AVG (Free) Anti Virus, Dropbox, Shazam and an Office Suite. I counted five games so it should keep those so inclined suited for a while.
Prise off the back to reveal a micro SD card socket and a micro SIM socket. Unlike some other recently reviewed units the back fits firmly back in place. If you want a different colour back they are available. My unit was a piano key white front and back.
The screen is a little less than some in this less than £100 class at 480x854pixel. It comes with 5GB of useable storage so those who might not want some of the freebies can always remove them to give as little more free to use. It can support a micro SD card up to 32GB but I found it did not support OTG devices. It has a 2000mAh battery.
While I am possibly one of the few who frequently turn phones on and off I quote the 22seconds it needs to boot and the 3seconds required to turn it off.
For those who want – or can use – 4G you have it here and that is unusual in this price bracket.
I managed to use this for two days in reasonably heavy use without the battery dying and streamed three full movies – around five hours – before it needed more power.
The 5MP rear camera gave reasonable images unless you got up close when things could have been better. It can shoot full HD video which is respectable.
This is quite a well built – some will say chunky – unit and for those who tend to live rigorous lives it may suit as it could survive the odd drop. For a little more you could get a fuller featured offering but again maybe not with 4G so if 4G is on your must have list then check this unit out.
The Alcatel is available from Argos either in their stores or online at £79.95.
http://www.argos.co.uk/static/Product/partNumber/3795288.htm