Moto E 2nd Generation with Android 5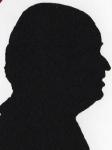 Review controls
While I am very happy with my Moto G the Moto E is a cheaper phone and it now comes with, or is upgrades to Android V5 so is this upgrade and other improvements such as 4G and the larger 2390mAh battery worth doing?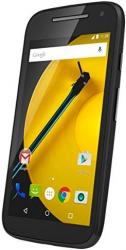 click image to enlarge
It is 13x6.5x1cm and weights 144grams, the screen is 5.5x10cm these figure gives the notional diagonal imperial measurement of 4.5inches. Front VGA camera for those all-important Selfies and for things like Skype.
Switch on is 34seconds while shutdown is 3seconds.
The first 'different' thing is that when you insert your thumbnail to remove the back to insert your Nano SIM and Micro SD card you are only removing a frame 'band' a bit of a surprise as everything else is moulded as a single piece, only when it is back in place do you notice that its colour is very slightly different from the rest of the white unit. The screen is gorilla glass so should withstand the odd drop but sadly it is rather reflective so in strong sunlight you will need to shade the screen. I am told that black is also an available colour together with several other 'band' colours so those who want can trend with different colours.
The four steps on the inside of the box will get you fitting your micro SIM and Micro SD card, delve to the bottom of the box to retrieve the 18 side 12x6.5cm folded 'let's get started' sheet. It covers not only the basics but enough to get you fully involved in your SmartPhone.
Unlike a lot of recent SmartPhones I had a decent length of review period so not only could I review the unit but also some devices that use it to sync to. All these devices took advantage of Bluetooth 4 and as this is very low power as opposed to earlier versions of Bluetooth it should be safe to leave it on without having a disastrous effect on battery life. This is stated to be '24 hours of light to reasonable use' the sealed battery is 2390mAh. It certainly coped with 10 hours of what I call heavy use. In normal use using Bluetooth and Wi-Fi around the home it was three days between charges.
Now this is a phone with a price point of just over £100 and it can be either 3G or 4G according to your likely usage.
The stated 8GB of internal storage started at 5GB with just over 4GB available and much less by the end of my review period when I had installed a number of programs but I did not use external Micro SD storage. However I did attach an 'On The Go' device at 32GB for videos which let me play them seamlessly.
Even with extra programs and Bluetooth from several health apps the phone was still responsive probably due to the upgraded processor over the original 'E'.
The camera is meant to be activated by wrist flicks but this rarely worked for me but as you have to think flick wrist and I tend to access the camera by default in a conventional method.
One piece of useful software pre-installed is Alert which can notify friends or relatives in case of accidents which for those with training schedules is perhaps more likely, this is not an all singing and dancing device but a very useable and well-priced SmartPhone.
The Motorola Moto E 2nd Generation is available from the first link for £106.03 with free delivery this is contract free. I see several companies offer the phone free on contracts but read the small print.
http://www.amazon.co.uk/gp/product/B00U22NGZM?ie=UTF8&tag=gadge0a-21&linkCode=as2&camp=1634
http://www.motorola.co.uk/consumers/mobile-phones/Moto-E-2nd-Gen/moto-e-2nd-gen-uk.html