LG Optimus 3.0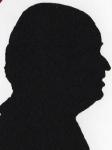 Review controls
As with most recent small mobile phones it is touch, the only exception is the volume up and down controls and the on/off button. Just two visible connections the 3.5mm jack for earbuds and the micro USB to recharge it.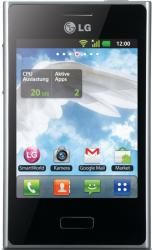 click image to enlarge
The LG Optimus 3.0 measures 10x6x1cm and it weights 108grams. However it does have a smaller visible screen than most as it is 6.5x5cm. This smaller sizing means that the unit fits better in the palm of all but those with the smallest hands.
It feels nice and comfortable in the hand, strong with the metal casing and smooth with the slightly ridged skin type back. The screen surround delightfully is not the very shiny black and while the finger marks are there they do not show.
Some recent phones offer a camera with a large mega pixel this ops for a more reasonable 3MP sizing and no LED flash.
Under the viewable screen is a line of three buttons the left and right are illuminated and touch controlled while the middle one is an actual button which returns you to your home screen, the centre of five screens in this case. Just onto the screen are a row of four icons that always are there, Phone, Contacts, Messaging and Applications.
The unit comes with a range of applications and three rows of four are shown on the screen at any time. Any Downloads you do for items you use all the time – in my case – Skype, Dropbox and Bus Guru are shown at the bottom in their own area.
While I am told there are some later versions of Android around 2.3.x seems to be what I am still seeing. Each manufacturer has the basic 'Gingerbread' arrangement with in most cases a few extras in this case 'LG Smartworld'.
It of course has Wi-Fi which enables you to use it anywhere without added charges. Here it has support for 802.11 B, G and N standards. There is also Bluetooth 3.0 for those times when extras like an external keyboard are useful.
Qualcomm produce something called a Snapdragon Processor. For some this means not a lot but in theory anyway it makes your battery last longer as it performs all your tasks more efficiently and you recharge less often.
For those interested in finding out more http://www.qualcomm.com/snapdragon/processors
While viewing a normal website on this screen requires more two finger stretching the actual text is still very readable. As for movies I watched a few without any noticeable problem. While music was okay from the built in speaker in a quiet area earbuds or headphones will give a better sound. The screen was bright and easy to read.
You can use a micro SD card (remove back to insert one) and these are supported up to 32GB. You have 1GB of internal storage.
While – as regular readers know – I prefer a standalone camera, this did take perfectly respectable images in daylight. For those needing to copy pages of text then it does a perfectly good job however a landscape scene deserves more.
Having recently looked at several phones with larger screens I was pleasantly surprised with this and found it responsive and easy to read even in the dreaded sunlight.
Doing my searches found the LG Optimus L3 SIM free at £119.99 with free delivery from the link below.
http://www.amazon.co.uk/gp/product/B007G3ONK2?ie=UTF8&tag=gadge0a-21&linkCode=as2&camp=1634