Two Doro Mobiles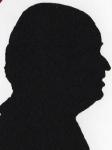 Review controls
A phone company perhaps better known in Europe, I have previously reviewed offering from them both for the home and mobile. Here I am looking at two different mobile phones aimed squarely at the older age group who might be new to the idea.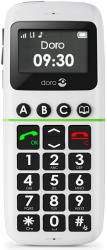 Doro PhoneEasy 338gsm
It is 12.5x5.5x1.5cm with a white face and black back. It weights 95grams. The screen is 3.7x2.2cm and a mono display. It has a total of 20 keys and perhaps most important three of the keys labelled A B and C are one touch dials ideal for those who perhaps struggle to remember numbers. So 'A' might be their daughter, 'B' might be a neighbour and 'C' maybe the doctor. However they do not even need the knowledge to program these numbers as the daughter or neighbour could do so for them.
There is a twenty eight page manual clearly written with the text being large enough to read and ample illustrations and the icons are printed large enough for someone with less than perfect eyesight to tell one from another. The manual does have transposed numbers on the page that explains what the various controls do 14 is the battery cover and 15 is the headset socket not as stated.
Apart from the 20 keys on the face there are three buttons on the left two sockets on the right and the all important on/off button on the top. There is another button on the back 'labelled emergency call key'.
While this is a simple phone it can receive text messages and there is a phonebook to store 50 entries.
The emergency key is explained in detail and providing the person is able to press it twice within a second then an SMS message is sent to the first number then on to number two and number three however you are warned not to send to anything with automatic answering.
It seems a charging cradle is available (optional extra) and for someone with limited dexterity it might be useful. Another useful feature would be the ability to hang it round the neck so the phone goes wherever the user does, but currently there is no where to fix a cord.
Available from the first link below for £100 including free delivery.
http://www.amazon.co.uk/gp/product/B002A9JIG6?ie=UTF8&tag=gadge0a-21&linkCode=as2&camp=1634
http://www.doro.com/global/businessunit/dorocare/product?p=338GSM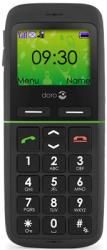 Doro PhoneEasy 345gsm
Looking very similar to the model above. It is 12.5x5.5x1.5cm with a white face and black back. It weights 95grams. This unit has a slightly larger screen at 3.7x2.5cm. This has only eighteen keys but has a colour display.
This has a very similar manual but it goes to 38 pages and does not have the numbering mistake on the unit above. It has the same buttons on the left side and the same two sockets on the right side. The top is slightly different it still has the on/off button but another beside it that is a torch which could be useful on a dark night to see a keyhole etc.
This is perhaps more of a 'normal' mobile phone as it has the ability to receive a second call while putting the first on hold. This can send and receive SMS messages and you can have various ring tones and even a silent (vibrate) mode.
This unit also has Bluetooth, you can set up altogether nine speed dials. It also has an FM Radio, alarms a Calculator and even games.
So this phone might be useful for someone with limited sight but who still wants a more or less normal mobile life.
Perhaps importantly it still has the emergency button on the back. Available from the first link below for £130 including free delivery.
http://www.amazon.co.uk/gp/product/B002A9JIGQ?ie=UTF8&tag=gadge0a-21&linkCode=as2&camp=1634
http://www.doro.com/global/businessunit/dorocare/product?p=345GSM