MotoPure H12 bluetooth headset

Published Nov 22, 2008 Author
petew
Review controls
A small bluetooth headset that provides good quality sound and good noise reduction, all at at good price.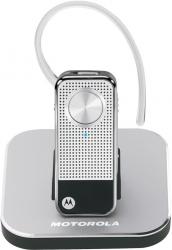 click image to enlarge
The MotoPure H12 from Motorola measures 41 x 18 x 12mm and weighs in at 12g putting roughly in the middle of the pack compared with other headsets I've reviewed. It also happens to be exactly the same size abd weight as the Motorola H680 that fared well in my recent comparison - no coincidence I'm sure!
The H12 is well provided with both a small charging cradle and a protective hard case that can also be used as a charge point. This allows you to have a permanent charger on your desk and something to leave in your bag. Both options have a micro-USB connector that attaches to the provided mains charger. There is no option, as with other products, of attaching a cable directly to the headset. A full charge is likely to take 2-3 hours and is should give you five and a half hours talk time or 200 hours, or 8 days, on standby.
In use I did find the H12 a little rather a large fit to my ear - even with the smallest of three ear adaptors attached and the depth at 12mm although not huge did tend to leave a feeling that the earpiece was about to fall out.
The MotoPure H12 has a number of separate controls including a very obvious on-off switch and a big call-accept button making it easy to answer that important call. The volume can also be controlled from the headset - obvious I know, but I have come across one headset where this wasn't the case!
Device status is converyed as is common through the use of a single multi-colour LED coupled with flashing at various rates. This particular product appears to be no better or worse than most others in this respect, but as I'll say again this is pretty useless for the significant colour blind minority! It's still true however that providing a simple LCD status display as does the Jabra BT4010 avoids all these problems!
Apart from the ear fit the headset feels stable in use. The silver colouring means that this headset is going to appear much more obvious on most people.
Sound quality was good, including with moderate background noise. Motorola lay this down to their new CrystalTalk technology involving two separate microphones along with some cicuitry to detech and counter background sounds.
As with all Motorola headsets I had no problem at all in pairing the H12 with my Sony Ericsson K800i handset.
For comparison I've included and enhanced the table I published in some recent Bluetooth reviews :
Motorola H375
BlueTrek SenSe
Motorola H680
Iqua SUN 603
Motorola H12
Dimensions (mm)
55x23x12
50x15x8
41x18x12
48x25x12
41x18x12
Weight
14g
9g
12g
14g
12g
Talk time (hours)
6
4
8
12
5.5
Standby (days)
8
5
8
unlimited
with daylight
8
Comfort*
3
4
4
2
3
Sound quality*
4
4
4
3
4
Features*
4
3
4
4
4
Design*
3
2
4
3
3
Best points
USB recharge. price
Small, light, unobtrusive
Battery life, cool design
USB charge, solar charge
Functionality/size
Worst points
Colour coding status
Ear clip, no volume control
'docking' system for charging
Fit in ear poor
Feels a little big in the ear
short talk-time

Price (incl. shipping)
£23.88
£40.83
£37.49
£32.45
£42.48
The H12 does provide good sound quality and noise cancellation. The poor fit to my ear meant that sound reproducting in a noisy environment could have been a little better. At £42.48, including shipping, this is a little more expensive than a number of competing headsets.