O2 XDA Ignito mobile phone

Published 3 Nov 2008 Author
petew
Phone doesn't really cover what O2 have managed to shoe-horn into the latest incarnation of their XDA smart phone manufactured by High Tec Computers (HTC).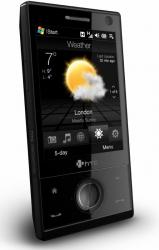 click image to enlarge
Marketed by O2 as the Xda Ignito and manufactured by HTC as the 'Touch Diamond', this devices measures a mere 102 x 52 x 11 mm, weighing 110g. Into this very modest enclosure the Xda Ignito/Touch Diamond provides a wealth of functionality hosted on the Microsoft Mobile 6.1 Professional operating system.
As is popular these days the primary interface is a touch sensitive screen, although the Ignito should really be considered a hybrid device. The screen input is supplemented with an array of five more traditional controls. Four of these are buttons: home, back, call and end. The fifth central control is provided for navigation comprising a central activation or selection button and a touch sensitive 'ring' that can be used is some applications to scroll - it's a little like the iPod central control - but only a little!
Xda Ignito Hardware
Given this is a touch-sensitive device, the screen is important. The Ignito manages to squeeze a full VGA resolution (640x480) LCD panel into a 2.8" area. To put that into perspective that's a higher resolution in a smaller space than the iPhone or the recently reviewed BlackBerry Bold. Although the screen does look great, it is a little cramped. This is particularly the case when trying to use the touch interface. For all but the most basic operations I found the stylus necessary
To drive this screen and to run the Windows software the Ignito is equipped with a generous 528Mhz Qualcomm processor along with 256MB of ROM to hold the operating software and 192MB of fast DDR RAM for applications. Despite this I found the interface itself quite sluggish. This isn't due to a lack of processing power - this device has more than many smart-phones. Specific application run fine, but the 'desktop' itself is a little on the slow side. This sluggishness particularly showed itself in response to touch-screen requests where gestures were slow to be accepted leading to repeated actions.
Supplementing the phone is a good quality 3.2M pixel camera that takes reasonable images, even in low light. A flash would of course have been nice! To the bottom of the device there is a single mini-USB connector that is used for the charging, connection to a computer and for the included head-set.
An internal speaker provides audio for both speaker-phone and media player functions. The speaker is somewhat quiet when used for media playback, even at maximum volume.
Memory is provided by an integrated 4G flash device. For many people this will be adequate. If it's not then this won't be the device for you having no expansion slot.
Finally, there is an integrated FM radio for when you're a little bored!
One very frustrating feature of the hardware was it's tendancy to mov to 'standby' within a very short period (around 30-45 seconds). To come back out requires you to press the fiddly power-on button on the top edge of the device.
Connections
The Ignito covers just about all bases here. The phone is compatible with 3G telephony networks including various data networks and speeds. Bluetooth is included for connection to suitable accessories (I used Bluetooth to successfully connect to the recently reviewed Motorola S9 stereo headset. For Office use WiFi (802.11/b/g) is provided allowing connection to corporate servers and to the Internet. I had no problem connecting to our encrypted office WiFi network and then on to the Internet.
When you're out and about and in need of direction there is hardware support for GPS (Global Positioning System), although you'll have to purchase software separately if this is a service your want.
Software
Windows Mobile is at the heart of the Xda. Like most operating systems you'll either love it or hate it. Windows Mobile definitely shows it's lineage and very much supports the model of a distinct operating system and separate applications - a distinction intentionally blurred on most products. I would describe the Xda as a handheld computer that can also make phone calls rather than a feature-rich phone. Personally, despite it's similarity with desktop systems, I don't find Windows Mobile an intuitive interface - it seems to want to be there in your face rather than something running in the background. The interface is further confused by multiple ways of starting each application.
The phone is shipped with a range of applications, both those that are standard with Windows Mobile plus others pre-installed for your convenience. The 'Start' menu provides access to the most common of these including Pocket Internet Explorer (the default browser), Messaging, Phone, Contacts, Calendar and of course Office Mobile.
Additional applications are available from the 'programmes' menu item that gives you a complete scrollable list. Most interesting of these are Windows Media Player, MSN Messenger and also the Opera Mobile browser. I could find no way to make Opera the default browser.
The software ties the applications together in a rather haphazard way, driven more by the operating system than by how people would (or would want to) traditionally use a portable device. For example many devices will allow you to start the camera my simply opening a shutter door or pressing a camera button. Others will allow the media player to be played or paused through an single button. Neither of these seems possible with the Xda - in both cases you have to get the stylus out and find the appropriate application.
Another example of this 'in your face' operating system is the effect of the volume control while watching video. Volume is controlled by a couple of buttons on the side of the device. However whenever you change the volume the system throws up a 'system volume' screen so you can't see the video.
TouchFLO
TouchFLO is an alternative software navigation technique that's been installed on the Xda, appearing as the top-level interface. You return here when you press the 'home' button and it's intended purpose is to allow you to scoll (left to right) through a list of the devices most common functions. I believe the model is inspired by the CoverFlow model of the iPod that allows you to flick through albums.
Once I'd read the manual for TouchFLO it made a lot of sense, and is generally a much easier way of using the Xda than resorting to the Windows Start menu. The gestures to move between activities still need to be fairly precise and I found I missed a lot poking the screen with stubby fingers.
Media Player
As with just about any portable device these days the Xda allows you to take your media files with you on your travels. In this case the player is a separate application - Windows Media Player. Many hand-held devices will automatically locate audio and video files copied to a machine and build these into a single library regardless of where they are in the system. This is not the case with Windows Mobile. Having copied a number of music tracks onto the Xda they steadfastly refused to appear in the library. The only way I could play the tracks was to use the file manager to find and open the file.
On the good side - once you'd given the media player a file, playback was very good. The remote control is great for leaving the phone in your pocket, and having a standard 3.5mm jack allows you to use your prefered head-set.
Video playback of various WMA and MPEG4 files worked very well. Recoded video scaled for playback on an iPod Touch (480x320) worked perfectly - both in WMV and MPEG4 format, despite a warning when I copied the MP4 file that it would not work. MPEG4 at 640x480 played back sound but no video. WMV at greater than 640x480 worked somewhat however the frame rate was very poor. If you have higher resolution video you're advised to recode down to something more suitable!
Summary
It's good to see a Windows Mobile phone come in at a much more reasonable size and weight. The hardware is beautiful - very sleek and feels great.
The addition of a few other buttons would make the system that much more usable - for example camera shutter button, a play/pause button on the device itself.
The touch-interface is OK although takes some getting used to. The interface is not on a par with Apple, either responsiveness or intuitive aspects.
Windows lets the device down a little with it's insistence of popping up everytime you try and do anything just to let you know it's still there and also in enforcing the view that everything is an application. The distinction between many mobile devices between operating system and application is intentionally blurred in order to improve usability. I'd love to see this hardware running another operating system.
For those people that need the 'corporate' features of Windows while having a device they can slip into their pockets then this is a good choice.
Pricing for the Xda Ignito from O2 range from free, with a £45/month or more contact to £249.99 on a £20/month contract.