Sony Ericsson M600i from T-Mobile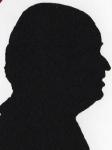 A phone looking like a small PDA including Internet connectivity and Blackberry push email, it also has another feature that can make texting a joy not a chore.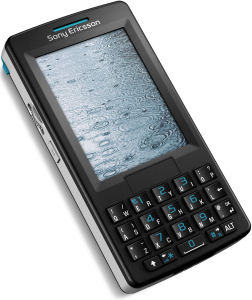 I think I could probably send a text using the Sony Ericsson M600 as quickly as a teenager, the one proviso the teenager should be using a normal phone keyboard. No I have not developed Superman's thumbs it's the keypad on the M600 that makes me faster.
There are a total of 18 keys and a QWERTY keypad. Each key has more than one action dependant on where you strike it. For instance it you hit the left side of the top left key you get a Q while the right side of the same key gives you W. Using this method means that the fifth key gives you O and P. The left and right rocking motion works very well and should you need some of the more obvious symbols like @:/. they are also easily accessible, so sending emails are also extremely easy.
The dimensions are 10.5x5.5x1.5cm and it weights less than 150grams. It takes just over a minute to get to the point where you can make a phone call from switch on. There is a touch screen and you need to answer 'phone or flight mode' and 'continue' questions till you are loaded. Most people of course leave the phone on so this will not be to regular a problem.
There is a stylus provided but the only time I found I needed it was when I needed to use the right side scroll bar as my fingers would not work there. Everywhere else the finger works well, the screen layout is individual with a lot of icons being in different places. Most are self explanatory and when highlighted a word says what they do. There is a well written if small 60 page manual that should help you work out where those elusive settings lurk.
The top has infra red port, on/off button and the insertion point for the stylus. The right side has a shortcut button and insertion point for memory stick. The rear has the charging and accessory connector together with the microphone. The rear has the loudspeaker and connector for Antenna. This leaves the left side with the back button and the jog dial.
By default the screen blanks after 24seconds of inactivity but and key press of screen tap will bring it back. Pairing with a Bluetooth device such as an earpiece was simple and I tried two different devices from separate manufacturers without problem. Basic figures claim up to 9 hours talktime and up to 400 hours on standby.
As a phone it works well just pressing the 0 immediately tells it you are inputting a phone number. I found that people I rang in most environments were not aware I was using a mobile and I had no difficulty hearing them either on the phone or with a Bluetooth earpiece. Certainly even on the train I do not think I disturbed other users.
Of course most people seem to want a lot more from a phone today apart from making and receiving calls and while this does not have a camera it does have email either via web access or Blackberry for Push email where an email can arrive only 6 seconds after it was sent.
Web browsing is simple and entering web addresses is simple and quick. Press the Web'n'Walk button click online and type the URL. I can enter the www.gadgetspeak.com address in less than ten seconds. It then takes around the same time to download the front page with all the graphics and then should I want around the same time to download one of the 'Top Eight Reads' from last month.
Web'n'Walk is a very reasonably priced service from T-Mobile that allows you lots of online contact without a huge charge for downloading.
Doing my Internet searches for a mobile gives a huge variation so I can only say from Free to £129.99 according to contract or not.
http://www.t-mobile.co.uk/eshop/personal/phones/phone-available-plans.do?bundleTypeGroup=0&mpc=300003054