Nokia E61 with 3G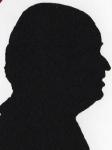 Strange how a company such as T-Mobile can supply the excellent Nokia E61 well before Nokia can. Using it with T-Mobile's Web 'n' Walk software using 3G says there was after all a point to all those expensive licences.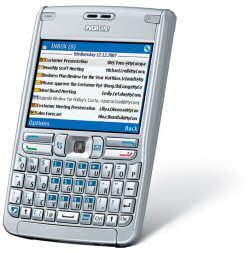 While connection speeds were not up to 'broadband' they are rapid and knock GPRS totally for six. The Nokia E61 is a device that looks more like a PDA than a phone but in fairness it's more than both combined. Anyone needing to connect, communicate and be communicated with (Blackberry style) should consider this device.
It has a 39 key keyboard that can easily be used by two thumbs and keys that you need such as @ / . are all first choice in fact numeric keys need to press a button first.
It is 11x7x1.5cm with a 4.5x5.5cm screen. Using Web 'n' Walk means that for £7.50 a month you can connect more or less anytime you want, browse the web and send emails. Once you have fathomed how to set up the Blackberry protocol - certainly something that needs time and a clear head - then an email can be with you within around six seconds of being sent as by default it is always on the lookout, the beauty of Push e-mail.
Should you have a web email address you can send from this but standard Pop3 is not really on. Mind you AOL, BT and Yahoo are setup in messaging and after some assistance - it really should be easier - a Blackberry type instantmail account joined them.
The getting started guide should get most up and running and with a Web 'n' Walk account you can be browsing the WWW in minutes, this is the full web and not that deemed suitable for a PDA some sites try to offer you graphics free but honestly you should be able to enjoy browsing just like on a PC, obviously you only see a portion of the page but the five position rocker button just below the screen quickly lets you scan left, right, up and down so any part of the page is there and at 3G speed scrolling is all but instantaneous.
When you try to locate the first page there could be a few seconds delay while it connects but it is seconds. As far as making and receiving phone calls you have all the features of a phone and of course sending a text is a lot easier as you have a full keyboard so very few - if any - multiple keypresses are required.
Anything a PDA can do so can the Nokia E61 so you can have your Calendar and Address Book and anything else that requires more than one device normally, of course you have sound, a voice memo is a single click and as it takes Mini SD cards you can even take music with you.
To find out all the points about the Nokia E61 check out the link at the end, however I would certainly advise a service such as Web 'n' Walk that for a monthly payment allows lots of Internet activity and should you brave the Push email setup then people can send you messages with attachments that arrive instantly.
The one thing that is missing on the E61 is a camera I was told this is security matter but as it has everything else I can forgive that. With the 3G it is possible to make voice calls and use the data channel simultaneously. I am told - I have not tried this - that VOIP is possible so you could be anywhere and people can still reach you just like you are at your desk.
The likely price for the Nokia E61 is varied according to contract an example is Carphone Warehouse £35 or even Free on contract they also list some of the many features not covered here.
http://shop.carphonewarehouse.com/pay-monthly/nokia/e61/3/3ttv70018/