Motorola Moto G (Take 3)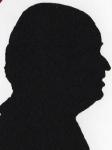 Here is the latest and greatest Moto G from Motorola who smashed through the glass ceiling of SmartPhone pricing, with their first Moto G, then more recently a 4G offering also bearing Moto G name and now the latest Moto G.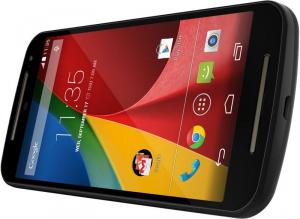 click image to enlarge
I have this as 3rd Generation but as another journalist pithily said there must have been a sibling as Motorola call it 2nd Generation.
It is 14x7x1cm and weights 147grams. Unusually for mobile phone reviews I have been able to use this for ten weeks before writing this review. It has been my constant companion when out and about.
This is a dual SIM unit which are slowly becoming more popular in the UK. It is available in either 8GB or 16GB versions. Also one of the few shortcomings of the first Moto G has been rectified by the inclusion of a Micro SD Card slot. 64GB OTG devices are also supported.
The viewable screen is 11x6.4cm which has the notional diagonal imperial measurement of 5inches.
The resolution is 720p HD and screen resolution is 720x1280 at 294dpi. This is clear sharp and very readable.
Startup is not rapid at close to 30seconds but shutdown is far better at 4seconds. For most these figure do not matter as few actually turn their phones off.
The processor details remain the same a Qualcomm Snapdragon 400 processor with a 1.2GHz quad core CPU, with an Adreno 305 @450MHz GPU and 1GB of RAM memory.
The battery is a 2070 mAh fixed battery pack, so not user changeable.
The speakers are on the front of the unit above and below the screen.
There are two cameras, front at 2MP for those Selfies and 8MP at the rear both gave perfectly reasonable images.
Going round the unit finds the external controls in the same place, the right side near the top for the on/off button and below this the volume up and down rocker. The base has the micro SD socket for charging and OTG use. The left side is clear and 3.5mm headphone socket is on the top.
The back cover will need to be removed to insert your SIM or SIMs and the optional Micro SD Card. This is a push on action that requires either a very thin blade or fingernail to start removal then it just comes away quite easily.
The version that was the latest available at launch was Android 4.4.4 and this has that, Motorola are also able to offer a guaranteed update to later versions as they do not fiddle about with Android as some manufacturers do.
The Migrate App should make the transfer of all your contacts etc to the new phone quite painless. One thing that you will require is a File Manager to use OTG devices and I normally use ES File Manager that is available for free from the Play Store.
While I use the phone and Internet while out and about it is rare for me to be out everyday so a charge would normally last me best part of a week.
The Motorola Moto G is available SIM free from the link below for £139.95 with free delivery.
http://www.amazon.co.uk/gp/product/B00NBSZ56C?ie=UTF8&tag=gadge0a-21&linkCode=as2&camp=1634