Siemens Gigaset C475 with Answerphone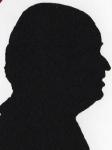 This is a high quality DECT phone that works either singly or with extensions and unlike some other DECT phones works over good distances. Just for good measure it comes complete with an internal answering machine.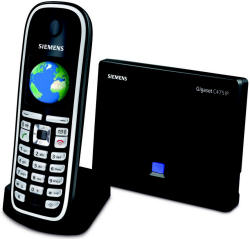 It is described as piano black and the phone itself is about the size of a larger mobile phone at 14.5x5x2.5cm maximum dimensions. It comes with a clip so that it can be fitted to a belt.
A lot of DECT phones are stated to work at a certain distance but often this tends to mean in the middle of a field. My unit is based in my office in the rear of my property and talking with a friend I left my office went to the front door and headed across my front garden and down the road. Eight houses down the road two detached and six largish semi detached the conversation started to break up so I stopped. I repeated this in the other direction and got about the same distance this was approximately 80 paces say 75 metres. Remember this was not in the open as the signal first needed to travel through five walls.
The stated range is 50 metres indoors and 300 metres outdoors. I was perfectly happy with the distance I achieved far more than with other DECT phones I have used. So even if you have a large garden you can still have your landline with you.
The base unit is 16x6x9cm and when the phone is in it charging automatically takes place.
The phone has a six line very readable display that can display 4096 colours. The default image is a picture of the globe (world), however this can be set to display a digital clock. It is stated to use 60% less power than a conventional cordless phone.
When out of it's cradle and a button is touched it will display reception strength and battery state as icons in blue on the top line, whatever you have called it (in my case office) ideal if you have several so they end up back in the right place and do not all sit in the kitchen. The fifth line displays the date on the left and the time on the right, and the bottom line shows Internal on the left and SMS on the right. After about 8 seconds of inactivity it returns to the default screen saving image.
If you start to dial a number the above does not apply and the number or numbers dialled stays on the screen for around a minute until the screen blanks out, also all the keys are illuminated for around ten seconds very good for dialling in poor light.
The keypad has a total of twenty keys and the ubiquitous five position joystick to allow access to stored names and numbers etc. It can exchange numbers with Outlook via upload/download. Also stores the last twenty dialled numbers.
The answering machine can store up to forty minutes of messages and you can enter your own answering message (some devices you are stuck with their message). The base station flashes when messages are received and they are played back through the handset. Remote playback is possible with a PIN number.
It is stated to work with up to six handsets and the two 'AAA' rechargeable batteries in the handset allow up to 12 hours use between charges and up to 150 hours in standby.
This was a wonderful unit to use anywhere in house or even outside, great if you are waiting for a call but need to visit a neighbour, if it rings they will probably think it's your mobile.
Doing my Internet searches found the Siemens Gigaset C475 at a best price of £49.95 from the first link below. Should you want a pair the second link has them for £69.95
http://www.johnlewis.com/230446005/Product.aspx?source=6132
http://www.johnlewis.com/230446006/Product.aspx?source=6132
http://gigaset.siemens.com/shc/0,1935,hq_en_0_139468_rArNrNrNrN,00.html