Samsung Laser ML1865W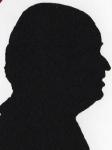 Review controls
This is the Worlds Smallest Laser unit, smaller than most basic inkjet printers, the main differences are that this is of course only monochrome but the claimed printspeed is the actual printspeed something you certainly cannot say for inkjets.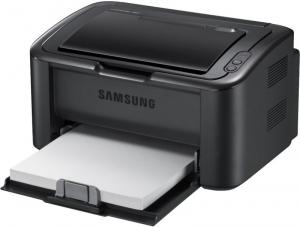 click image to enlarge
The Samsung Laser ML1865W measures 34x22x17cm with the paper input and output trays closed. Open these and the 22cm depth increases to 33.5cm.
This is a unit with minimum connections and minimum controls but it does not mean it has little to offer the user.
The ML1865W is rather like the ML1665 reviewed last summer. This unit has connections so it can be used as USB or Wireless. Both the power and USB connections are on the back right hand edge of this compact unit.
The only controls are on the right front edge of the top a pair of LED's and two buttons one for Wireless connection to your router and the second on/off. Apart from placing paper in the bottom tray to print and removing printed paper from the top that is the only reason you are likely to have to go to the unit as it never jammed.
You get 18PPM (A4) no matter what you give it to print. For an inkjet there is normally a speed differential between the 200 word nonsensical document to a more normal 1500 word document spread over four pages, both came in at 18PPM. However I have a large near 200 page database which I print 'four up' that is pages 1 to 4 on page one and pages 5 to 8 on page two etc. This has three columns and 43 lines of text per each of the four pages. So on a single A4 page it appears as 86 lines and six columns of information but still very readable. This database printed in less than three minutes from saying print to removing the last sheet from the printer.
You might say that being a mono unit it is no good for graphics well if you want glossy images on photo paper this is correct however certain graphics can look great in monochrome what matters is how it deals with shades.
The paper input tray (paper placed in face up) is stated to hold 150 sheets; I found 100 was easily accomplished. The paper output tray is stated to hold 100 sheets; I lost my nerve at around 70 as to me it looked very full paper is delivered face down.
While stored unprinted sheets do stick out from the front of the unit as mentioned above the paper output tray flips shut on top of the unit and while you should open the lid you can get away with leaving it shut for a few pages, however there is heat here and it could even make the output pages damp as condensation can build up if the output tray is not opened to allow the heat to escape and then the paper will just emerge very slightly warm.
Quality of the letters was crisp and sharp and even at small sizes (as with the database) very readable. Going to the other extreme large letters and numbers were still smooth so ideal for signs and notices such 'keep off' or 'back at 2.30 printed at a size to fill an A4 page.
With Vista or Windows 7 you can print a page wirelessly by a single two second hold of a button and whatever is in the current Window of your screen is printed this does not only apply to your desktop it can be a web page.
One word of caution even though it can be used wirelessly (as I did for most of my tests) you will need an initial connection of a USB lead for the setup during part of the software installation. This needs 160MB of hard disc space and overall took around 10 minutes. It ships with a part cartridge (700 pages) normal ones are 1500 pages.
The Samsung ML1865W is available from the link below for £69.99 including free delivery.
http://www.amazon.co.uk/gp/product/B004CLVETO?ie=UTF8&tag=gadge0a-21&linkCode=as2&camp=1634
http://www.samsung.com/uk/consumer/print-solutions/print-solutions/mono-printers/ML-1865/XEU/index.idx?pagetype=prd_detail