BlackBerry Pearl from T-Mobile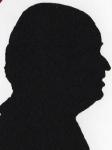 Review controls
Buy the BlackBerry Pearl from T-Mobile and the included SIM gives you 12 months worth of web access and emails included in the price. Yes this is still a phone as well (you do need to pay for phone calls) but it means you email can follow you everywhere.
Buy Now!
Blackberry Pearl 8110
£179.99 from T-Mobile
Pay-as-You-Go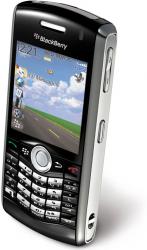 The Blackberry Pearl 8110 is 10.5x5x1.2cm, mine was silver and chrome and it weights 90grams. It comes with a rather neat leather slip case. The TFT screen is 4x4cm.
Below the screen there is a sort of QWERTY keyboard and this is the thing that might stop this unit being a roaring success. The keys are .8x.5cm and while arranged in the QWERTY layout every key has two characters, they are not arranged using a rocker motion so whether it gives Q-W or E-R etc when you hit that key is partially at least down to predictive text. It takes some getting used to.
In total there are 24 keys and of course in the centre of the top line a trackball to allow you to navigate around and across the TFT.
As a phone just enter the number from the centre three keys in the four columns and any call you dial should be connected without problem. By default the screen will show the top line of icons and these should allow you to access E-Mails, Address Book, Calender, Web 'n' Walk and your Call Log. The rest of the TFT at this top screen setting will show an icon of the remaining battery with a mail icon just below, the centre of the top have day and date on one line time on the second and the T-Mobile service on the third. The right has the reception and the service speed – I never got better than GPRS - and an icon to say sound is on.
While I am sure most never turn their phones off I do and I was very pleasantly surprised that four seconds had it ready to work from off and a four second push on the 'end call' button had it shutting down. These figures are miles better than anything else I have used.
Out of the box there are three booklets, 'Read Me First' an eight page highly coloured offering to get you salivating. 'Tips' a fold out sheet of twelve sides. 'Getting Started Guide' fifty six pages that should get you working with almost every module without problem.
There is a handy 'Mute' key on top of the phone for all those occasions the phone rings when it shouldn't. Going down the left side is a standard 3.5mm earbud jack (earbuds supplied) then a USB port (this also doubles as a charging port), then a door covering a micro SD port (mine came with a 1GB card) and then the charmingly named 'left convenience key'. The base is clear. Going up the right side reviews a wrist strap anchor point, then the 'right convenience key' and finally a pair of volume keys.
Typing site names was not easy even when you have worked out most of the possible predictive text responses; still I expect the young far sighted youth of today will have all the options sussed in a few minutes. Setting up to have 'push' email delivered is easy with the exception of entering the details a quick tip the space bar will automatically enter . and @ at the appropriate places and this is far quicker then delving to find the symbols screen.
For anyone needing to be contacted by email 24 hours a day then the BlackBerry 'push' email works well. Once you have got the URL of sites entered save them as favourites and then a flick of the trackball will have access to that site. There is meant to be a slightly faster connection than GPRS but I have never found anywhere with this reception as yet. It is nice to know what the likely download speed will be and the icon top right tells you.
This is perhaps more about the service than the phone but as the offer is one years free browsing and email when you buy the BlackBerry Pearl from T-Mobile then you need to know about the BlackBerry Pearl, as far as the service during the time I have had this device it has worked without problem. Just remember you still need credit to make phone calls.
This offer should be available from all T-Mobile shops at £179.99 and remember the phone is yours and you get a SIM to give your twelve months free browsing and email. You only need top ups to cover your phone calls.
www.t-mobile.co.uk/shop/mobile-phones/phones/pay-as-you-go/blackberry/8110-pearl-payg/overview/