Freeloader iSIS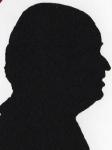 A mobile charging device, not just a standard device but one that should be able to charge your devices – it can do several at once – for no additional cost after you have purchased the Freeloader. This feat is accomplished by using solar power.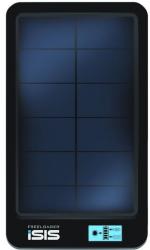 click image to enlarge
The Freeloader iSIS measures 13x7.5x1.7cm and weighs 228grams.
While no great claims are made about its rugged uses the rubber sides and ends are very extensive and should save it should it be dropped in most situations. The box states the case is impact and water resistant, the claim is a one metre drop which probably corresponds from most peoples waists.
The back of the unit has a substantial belt loop 4x4cm belt loop and there is also a Velcro strap included. Also in the box is a 75cm long micro USB to USB cable and a User Manual with eight pages in English.
At the base of the unit are two USB sockets, a micro and a full size one both have rubber bungs attached so you should have some waterproofing ability.
Just above the bottom of the right side is a near invisible small on/off button and level with this on the face below the solar panels is a tiny 2x.7cm black on blue display that show the current charged state as four section icon. This can also show which of the slots are being used.
Apart from power being harvested from a free source, most such devices use the micro port to charge the device and full size port to take power to the charging device, while one can if required be used to take power.
In fact if you remove the rubber skin there are other goodies hidden in the case, a small tilt device to allow you to aim the device towards the sun or more likely lighter sky in the UK and perhaps more useful a built in pop out micro USB plug on a 7cm tether, this is useful for the times you remember to bring the charger but forget the external cable. While I do not have any Thunderbolt devices there is also a similar built in cable for those devices on the other side when the skin is removed, so while the main claim is to be able to charge two things at once it is actually three.
The internal battery is 4000mAh which is stated to be enough to charge a Smart Phone three times.
For those who live in areas with little bright light such as certain places in mid-winter it can be charged by USB.
In normal use I would keep the skin on as you never know when it could take a bump, just remember to pack the cable as well as the Freeloader and there is no need to remove the rubber sleeve, unless you are a recent Apple device person.
Other claims are 3 time charge for a camera and the same for a portable games console, four time for an MP3 player and even four hours of use for those who own a Raspberry Pi.
The Freeloader iSIS is available from the first link below for £64.99 with free delivery.
http://www.amazon.co.uk/gp/product/B00LWZHQHM?ie=UTF8&tag=gadge0a-21&linkCode=as2&camp=1634