PNY Device Charger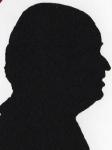 For the last few weeks I have neglected my phone as I have been using other review units, for my trip out my phone needed to function. I switch it on for it to beep and show 0%. Luckily this PNY device had just arrived fully charged.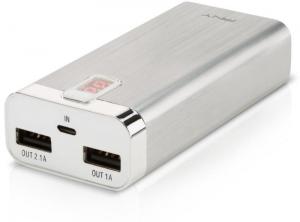 click image to enlarge
It is 10.5x4x2cm and weights 156grams.
The front end of the unit has two USB ports and abov3e these centrally placed a micro USB port. It comes with a 50cm long USB to micro USB cable.
The unit is brushed metal with a shiny chromium band at the front end. There is an on/off button next to a 1x.7cm % display.
I connected the lead to one of the USB ports and the other end to my dead phone. It immediately sprung into life. I left for my jobs out and looked at the connected charger over the next 140 minutes as its display declined and my phone climbed to 100% charged. Just under 50% of the batteries power was used to do this task.
The first main difference between this unit and others I have tested was that as this comes fully charged it can sit in your bag or purse until you have that moment of collecting your phone and you realising that you have not charged it. Your phone is useable all the time it is charging.
This unit can charge two items at once. Anything that has a micro USB port is covered out of the box and other devices that have different connections can still be charged providing one end is USB.
PNY have three models in their range 2600mAh, 5200mAh and 7800mAh. The unit I was sent was the middle one the 5200mAh. As stated almost 50% of its power was exhausted in 140minutes to fully charge my phone. Using my normal method of charging via a wall outlet is somewhat slower and a USB port on my PC a lot slower.
A lot of other devices talk in terms of charging a device for a certain amount of usage. This unit talks of the the number of complete charges for your device and the middle one claims '2' which my tests bear out. With this unit the % display shows how much power is left in the charging device which I find more useful as if you are not currently showing 'Settings' on your phone you do not accurately know the level of your phone.
The fold out 17 language sheet is the same for all three models and I can see that the 2600mAh has only a single full size USB port while the 7800mAh is somewhat larger than the 5200mAh that I used.
Having a device get you out of a hole on day one always remains in the mind and while I charged various other devices without problem that one remains in the forefront of my mind.
To charge the power pack just connect the supplied cable to a wall outlet or USB port on your PC. The display flashes the amount of battery charged and this shows you it is charging.
My tests found it took 7½ hours to fully recharge the unit from empty using a wall socket and this agrees with the roughly four hours that my phone takes to recharge from the same socket.
The PNY 5200 mAh PowerPack is available for £28.93 with free delivery from the link below.
http://www.amazon.co.uk/gp/product/B00F5NUS7C?ie=UTF8&tag=gadge0a-21&linkCode=as2&camp=1634