iKlear Keeps it Clean

One of the most unsatisfactory issues when using an iPad, or any other touch screen tablet for that matter, are the finger prints and smears on the screen. The iKlear spray cleaner/polish from US company Meridrew Enterprises offers an effective solution to the problem.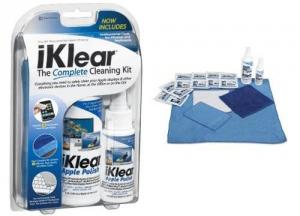 click image to enlarge
iKlear consists of a proprietary cleaning fluid and a microfibre cloth. One side of the cloth, which has a raised texture and the other side is soft and smooth, is claimed to have an antimicrobial action. The fluid is described as being alcohol and ammonia free and is claimed to be 100% non-toxic, eco-friendly and safe for both children and animals.
The fluid is supplied in a push-button pump type spray and the instructions say that one should not spray directly onto an iPad, iPod or similar device even though it is acceptable to spray directly onto 13inch or larger screens (one squirt per square foot of screen area). For the smaller devices just moisten a corner of the microfibre cloth and wipe over the screen. Then, in both cases, polish off with a dry area of the cloth. This results in a remarkable improvement so that it was far easier to view the screen. This effect seems to last for about a week or so after which time, another application is required. In the meantime, polishing with the cloth seams to remove odd smears.
The company also makes "Travel Singles" which consist of a dual wet/dry sachet can easily be carried in one's travel kit and used in a similar manner. Wipe over with the cloth from the wet sachet and then polish off with that from the dry one. If one opens the wet sachet carefully and then, after use, returns it to the sachet and folds down the edge to exclude the air it may be possible to use it two or three days later.
In practice, I found that it was quick and easy to apply to a tablet computer and quite effective. Should a small smear develop later, it can be polished out with the cloth or, as I found out, with a clean handkerchief.
Although there are also other sizes, the Cleaning Kit for iPad/iPhone ref. KRLIKPAD priced at £9.99 is a very convenient size. It is not just applicable to Apple devices and is very useful irrespective of what size or make of device(s) you have. It consists of a 2oz. spray, which should give about 300 sprays; an 8 inch square microfibre cloth as well as the application guide and three Travel Singles.