Verbatim's Dual Mobile Power Bank

Verbatim's Mobile Power Bank model 97926 is designed to provide backup power for tablets and smart phones for those on the move. Because it has dual outputs, it will prove particularly valuable for those who need to keep two devices working and yet cannot be certain of always being within reach of a convenient power source.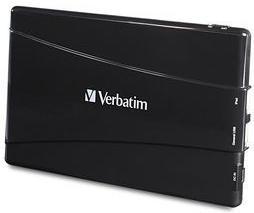 click image to enlarge
The Power Bank has a capacity of 10,000mAh which should be enough to provide up to 100% of the battery capacity for the majority of tablets as well as keeping one's phone on the go. It is in a stylish polished black plastic case measuring 170 x 115 x 11mm with rounded corners and edges and weighing 350g, which will slip neatly into the corner of one's carry-on bag as it is roughly the size of a paper-back book but much thinner.
It has three USB connections: two standard ones for connecting to the devices to be charged and one mini to enable the Power Bank itself to be recharged. There is also an on/off switch set in the edge and a series of three blue LEDs to indicate the unit's state of charge and a red one to show that it is on charge. The output for connecting to a tablet computer or anything else that has a high power demand is marked "iPad" while the other output is marked "General USB". There are two USB cables provided, each of which was less that20cm: one with a micro and the other with a mini USB connector. I feel that these are inconveniently short and would have preferred them to have been at least 50cm long.
The amount of power left in the Power Bank is indicated by the Blue LEDs: one lit, 10 to 30% remaining; two lit 30 to 75%; and all three lit, at least 75%. In order to recharge the Power Bank it should be connected to a USB port on a computer (which must obviously be switched on) or to a USB AC adapter. In either case one connects to the mini USB connector marked "DC in" on the Power Bank. As, in practice, one should use the "high power" AC adapter provided with the tablet computer, rather than a USB port on a computer or the adapter supplied with a phone. This is because the former has far greater power and will charge a completely empty Power Bank in about 7.5 hours as compared with 15 hours for the latter which is really unacceptable.
In essence, when used with a high power AC adapter which provides and acceptable recharging time, the Power Bank is both practical and convenient tool for those who need to protect themselves from their tablet and smartphone dying on them on any extended trip.
The 10,000mAh Mobile Power Bank has a MSRP of £59.99 but can be found on Amazon for £34.95. There are also other, lower capacity, units available.