Gillette Fusion & Hand Warmer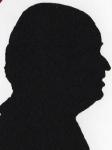 The first from a name big in shaving for more years than I can remember this offering however is battery powered. The second from the Kings of USB residing in Hong Kong a hand warmer that is available in four colours.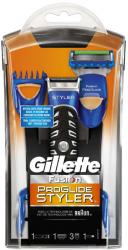 click image to enlarge
Gillette Fusion Proglide Styler
An electric shaver using blades is a basic description it also has two other combs that attach to the base unit to provide the style. A single 'AA' battery fits into the arm of the unit to provide the power at a touch of a button.
It is 16.5cm long with one of the five bladed heads attached; these have a 4cm across shaving action as it moves across your face. The unit is 3cm wide and 2cm deep with a rubberised coating to facilitate holding when wet.
The two grooming heads just clip in place when the shaving blade assembly is removed allowing trimming of sideburns, moustache eyebrows etc. A small pressure upwards by the thumb will allow changing of grooming heads or replacing of the blade assembly.
For those old enough to remember turning double sided blades over in an open razor the disposable twin blade type offerings are 'new' so something with five blades certainly takes getting used to as does the time the blades are expected to last.
A replacement pack of four or the cartridges has the words 'lasts up to 13 weeks' on it. So on that basis it is assumed that a single blade will last over twenty shaves assuming of course you shave once a day. With me anyway I found this challenging.
The Gillete Pro Glide Styler comes with a stand to hold the shaver when not in use, the non foaming gel supplied with it gives the face a covering which is clear – unusual for those like me used to a white foam – but it dos help the unit to slide over the skin although on the first few occasions you feel as if you are pressing to hard.
Available from major high street chains as well as online. Link below has the item for £26 with free delivery.
http://www.amazon.co.uk/gp/product/B0084YKLXA?ie=UTF8&tag=gadge0a-21&linkCode=as2&camp=1634
USB Hand Warmer from Brando
With winter now definitely here this offering has the obvious use of keeping your hands warm outside in cold weather. However Brando suggest another use that is keeping fingers useable in an over air conditioned office.
It is 10.5x4x2.5cm and weights 57 grams. It is stated to heat up to between 45 and 50 degrees Celcius within five minutes.
The four colours are Hot Pink, Light Pink, Blue and what is described as Light Orange but it looks closer to yellow to me. I was sent the Blue one it comes with its own draw string bag.
There is just a simple on/off slider near the base which has a red LED glow near it when on. There is a 1.2metre USB lead to charge the unit and this plugs into the base.
Within around 30 seconds of switching it on you start to feel some small amount of warmth on the metal side of the warmer.
On a cold day this warms the hands quite nicely and with a pair of slightly oversized gloves it will slip inside to restore warmth.
My only quibble is why they place it in a part of the site named 'lady.brando' as I certainly also get cold hands and anyone who know me will confirm I am no lady.
It is available from the link below for $12 (US) plus $3 (US) P&P whatever the size of your order.