Manfrotto's Compact Tripod

The Manfrotto Compact MKC-PO2 tripod (in grey) has been designed to provide a firm base for cameras weighing up to 1.5kg and so is suitable for compacts and the majority of DSLRs. With a packed length of less than 43cm and a weight of only 1kg, it is an acceptable burden for the keen photographer and yet will reach a maximum height of 165cm when the 30cm centre column is full extended.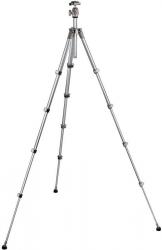 click image to enlarge
The tripod consists of 5-section oval legs with simple quick release clamps to that the height can be quickly and easily set anywhere within its range irrespective of whether or not the ground is level. A simple screw is used to lock the centre column, which has a roughly hexagonal profile, in any required position. To minimise the risk of damage to an attached camera, on the underside of the ball and socket head there is a rubber ring, to act as a buffer in case the user allows the centre column to drop with a bang.
In addition, the column can be reversed and inserted from the underside of the tripod should the photographer need to have the camera mounted at virtually ground level (albeit upside down). In order to minimise packed length the centre column can also be reversed. However, even when not reversed the packed length is still less than 50cm.
The built-in ball and socket moves freely to any angle and position, including moving the camera from landscape to portrait orientation -- or any position in between. The locking thumbscrew can be set to provide a suitable amount of friction while adjusting the camera's position prior to tightening the screw further to lock it.
The quick-release camera mounting plate on top of the ball and socket is tapered so that it locks firmly into position without any rocking movement. The head of the camera mounting screw, in the underside of this plate, has a coin slot so the plate can be fitted or removed from the camera without any tools.
When the tripod is used at its maximum height, I'd rather use a cable release or delayed action for a long e xposure. However, I have no such reservations when the bottom (and thinnest) legs were retracted.
I found that the tripod was extremely practical and convenient to use. Its rubber feet are suitable for use on virtually any surface and the matt colour, either black (suffix P01) or grey, is non-reflecting. Consequently, it is non-intrusive and does not draw attention to the photographer who often wants to blend into the background as much as possible.
Overall, I felt that the tripod, which is available from Amazon for £49.95, would be a worthwhile addition to the serious photographer's kit and was well made and so should continue to give service for many years.