Freecom Docks Your Hard Drives

As many of us our now on our second (or even third or more PC) it is quite common to find that people have removed and kept the hard disc from the out-dated machine. However, having retained the drive, we may find that we don't have the means of taking data off it. Freecom's Hard Drive Dock Pro could well be the answer as it designed to connect a bare SATA or IDE drive to a USB port.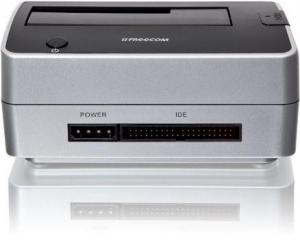 The Dock is roughly 145 x 90 x 60mm high and comes provided with its external power brick and a USB cable. A 2.5 or 3.5 inch SATA bare drive can be plugged directly into the aperture in the top of the dock and will appear as another drive in My Computer or Windows Explorer etc. It is then a simple matter to view files in the normal way and then copy and paste them as required.
There are 3.5 inch PATA/IDE drive connections on the side of the Dock. However, although there is a note on the outside of the box that a special converter will be needed for 2.5 inch IDE (notebook) drives, it is only when one reads the instructions in the box that one finds out that additional cables are required before one can even use it with a 3.5 inch drive. Having got the necessary cables and connected a 3.5 inch IDE drive it was again a straightforward task to access the files.

click image to enlarge
I have just learned that 'in the near future, the product will be updated' and have been assured that this will mean that the 3.5 inch IDE cables will automatically be included in the box. While, in the meantime, these cables can be obtained from Freecom 'local support centres', it may also be possible to cannibalise an old PC to get the necessary 40-way IDE hard drive ribbon cable and a Molex 5.25/IDE power splitter cable.
Although I haven't been able to test the dock with any 2.5 inch drives, those I have tried have ranged from a 10-year old IDE drive through to a new-generation Seagate Barracuda XT 3TB drive with a SATA 2.0 (6GB/s) interface. It must be appreciated, however, that the data transfer speed of the latter is limited to that of the USB2 interface.
While the majority of people will probably want to use the dock to access data held on old drives, at this point, I must add a cautionary note for the unwary. A brand new unformatted hard drive will not be recognised so one might jump to the conclusion that it is faulty. In fact, it is necessary to set it up and format it using the Disk Management Console.
Overall this Freecom dock provides a convenient means of temporarily connecting and accessing the data on a wide range of bare drives. Consequently, at a basic price of about £40 (plus IDE cables, if needed) this is a useful investment for those who take the lid off their PCs.