Garmin's Versatile 1490T SatNav

The Garmin 1490T is a 5 inch screen GPS unit which offers, as well as the basic features, Bluetooth connectivity, traffic alerts and maps of Europe and not just the UK and Ireland. It is intuitive in operations, provides spoken street names and has a high contrast colour screen which is easy to read under most conditions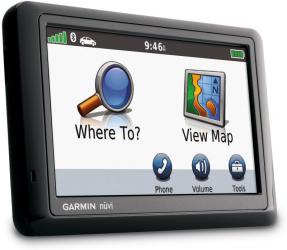 click image to enlarge
At first sight the 1490T appears enormous and one wonders whether, once it has been fixed on a car's windscreen using the provided suction mount, it will obstruct one's view and will prevent you from actually seeing the road. However, after a few minutes experimentation one finds a place on the windscreen where it can easily be seen, swivelled to a suitable angle and yet does not get in the way of one's driving vision.
It is straightforward in operation so that, having touched "where to" on the screen and then "address" one can, if necessary, change the country, and then key in the target address. A map, with that location at its centre, is then displayed. One very soon came to appreciate the spoken street names as it made it so easy to check whether one had made the correct turn -- especially where two turnings are close together. One gets added confidence from the fact that a quick glance at the large display will show the names of passing side roads.
Expected time of arrival at one's destination was displayed en route together with current speed and prevailing speed limit. When the limit was exceeded the speed indicator changed to red. More importantly, there was both audible and visual speed camera alerts.
The lane-assist and junction view feature is a boon on motorways, and makes driving less stressful as one knows which lane to get into well before reaching your turn-off. Similarly, the subscription-free traffic alert based on TrafficMaster data covers all UK motorways together with extensive coverage of other major roads throughout the country. This, coupled with the ecoRoute which is designed to compute a more fuel-efficient route, makes it ideal for everyone who aims to be green and keep fuel consumption down.
I also found that, when set to pedestrian mode, I could carry even carry the unit in my pocket and only take it out when I wanted to check the actual point that I'd reached. This was useful when, having parked near your destination, you can switch to pedestrian mode for guidance on the last few hundred yards. Here, however, one has to rely on the internal rechargeable battery which is claimed to have a life of "up to 3 hours". The only other caveat is that, on returning to the car, you must remember to switch back to car mode.
The Nuvi 1490T is roughly 14 x 9 x 1.5cm and weighs about 220gm. This is appreciably larger than my existing GPS unit and 50% heavier. However, side by side, they are chalk and cheese with the 1490 having a far brighter higher contrast display. It is all too easy just to consider the specification of a GPS unit. However, there are a number of factors that are difficult to quantify. For example, the brilliance and clarity of the 1490T's display is vastly superior to units produced only a couple of years ago. In fact, being easier to read, makes them less of a distraction and thus safer to use than the older models.
One disappointment, albeit minor, was the lack of some form of case (even though one is available as an optional extra) to prevent damage to the 1490T when it was not in use. Nevertheless, at a list price of £199.99 (as well as being available on Amazon for £169) it is good value for money.