Yamaha PDX 50 and Veho360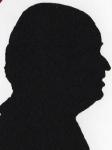 Two very different approaches to music through a speaker. First the rather grand Yamaha offering that enables your iPod to be located away from the speaker. Second a small (fits in pocket) speaker to give a good sound for iPod or MP3.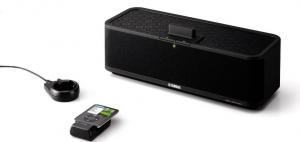 click image to enlarge
Yamaha PDX 50
This seems like an easy mix. Place your iPod in the wireless sender that fits around your iPod it sends signals to the speaker and sound comes out. Not what happened for me, I assumed (wrongly) that the speaker was faulty and a replacement was sent, still no joy. Then it was suggested I upgrade the firmware in my series one iPod Nano, now upgraded to version 1.31 all works correctly.
There are two LED's on the wireless sender a green one on the left while it searches and a red one on the right that you only see if there are problems. This unit has an internal battery that will need mains power to charge it occasionally.
The 34x12x9.5cm speaker will need to be located within three metres or so of a mains socket. The power adapter fits in the rear of the speaker and on the top it has volume up and down buttons as well as two LED's.
There are no other controls. It works on wireless and there are three bands, adjustment will need a very small screwdriver to remove a tiny screw on the back of the speaker that reveals a slider button. Adjustment on the wireless sender has a rubber bung covering a similar slider switch, both the sender and the speaker must be set to the same channel.
I found the instructions rudimentary a few diagrams that are not that clear and a couple of sentences together with an additional sheet of paper. If you are good at puzzles it will help especially if you get the red LED flashing as I did.
Nowhere did I see any warning about updating the firmware in the inadequate instructions. Sound quality was good but I struggle to see what advantage there is in not having your iPod tethered, the disadvantage is that you cannot use an MP3 player that if you had a 3.5mm jack connection you could.
Doing my Internet searches found the Yamaha PCX 50 at a best price of £152.15 including free delivery from the first link below.
http://www.amazon.co.uk/gp/product/B002BDU7HK?ie=UTF8&tag=gadge0a-21&linkCode=as2&camp=1634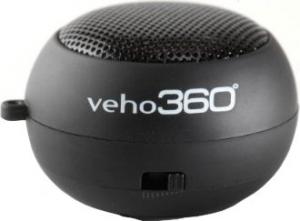 Veho 360
For its size this gives a great sound ideal when more than ones wants to listen to output from an iPod or MP3 player. It is 3.5cm tall and 5cm round. There is a 6cm long 3.5cm lead that folds into the base of the unit. It is matt black in colour.
It has a USB lead that allows you to recharge the solid battery from any USB port. It is also supplied with three different leads to allow connection to various mobile phones so you can enjoy sounds from them as well.
I think at the price this a great little speaker that easily fits in a pocket or purse and gives a good sound. This can be enhanced by a twist that gives a concertina effect to increase the speakers overall size and sound.
The Veho 360 is available from the first link below at £12.99
http://www.firebox.com/product/2463/360-Spring-Speaker