Memory Card Reader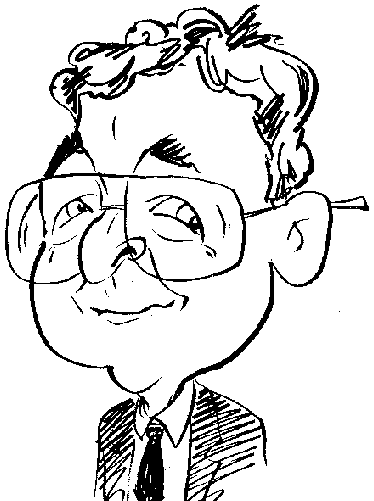 As mobile devices tend to depend on memory cards of carious types, you do need the means to transfer any stored content to your computer.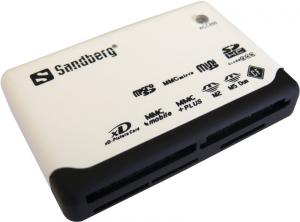 click image to enlarge
When it comes to memory cards, it could be said that you are almost spoilt for choice. However you could also be confused over the various formats when it comes to accessing the data stored on the different card formats. Fortunately most modern systems come with multi-format card reading facilities built-in as standard. An alternative approach for those who do not already have this capability is to use a dedicated card reader such as the new multi card reader developed by Sandberg and distributed in the UK by Interactive Ideas.
While there could be smaller card reading devices available, the Sandberg unit is the smallest one that I have actually had the opportunity to test. This unit's dimensions are 6 x 4 x 1cm (W x D x H) which makes its extremely portable device. It could easily slip into a pocket without causing even a slight bulge. Adopting a black and white colour scheme, the top of the unit displays twelve logos. Apart from the Sandberg logo, there are others representing xD, MMC and Mobile, MMC + Plus, M2, MS Duo, CF, Micro SD, MMC micro, Mini SD, T-Flash, and SDHC (Secure Digital High Capacity). This last logo is gathering popularity as digital camera manufacturers start to support a format that is promising to provide up to 32GB of storage capacity.
Running across the front of the card reader is a double bank of slots for the various card formats. These cover SD/MMC/RS-MMS and MS/xD on the top row with Micro MMC, Micro SD/T-Flash and M2 arranged along the bottom. The back of the reader houses the CF slot. A USB port socket is positioned on the right side of the unit.
Setting up this multi card reader is just a matter of connecting the device to a USB port using the supplied 180cm lead which is long enough to avoid any problems when it comes to positioning the reader. Once the device has been recognised by the operating system, an additional drive letter will be displayed as part of My Computer. Note that, unlike other card readers I have looked at that allocate a drive letter to each slot, this product just offers a single drive letter. While this does remove any confusing that might exists as you struggle to work out which drive letter is associated to the various slots, it can make transferring data from one card format to another more complicated.
When a card, of whatever format, is inserted into a slot a LED light on top of the unit glows blue to indicate the reader is ready for use. Read speed, using a 1.6GHz laptop running Windows XP SP2, was timed at 12.6MB per second. When it came to write speed, the achieved rate dropped to 3.2MB per second.
Supporting the series of cards classified as SD, xD, MS, CF, MMC and T-Flash/Micro SD, the Sandberg Multi Card Reader covers the most common memory card formats within a pocket sized device. The product requires Windows 2000, XP or Vista and is backed up by a five year warranty. The Sandberg Multi-card Reader is officially priced at £20.99 and available from Amazon for £14.99 including shipping on the following link:
http://www.amazon.co.uk/gp/product/B001A4W8VY?ie=UTF8&tag=gadge0a-21&linkCode=as2&camp=1634