Dane-Elec Zpen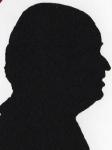 Often taking notes is discouraged simply because to make then permanent needs transcribing. One solution is a notebook or even a Tablet PC. These however are heavy and normally quite expensive. The Zpen from Dane-Elec is another somewhat cheaper option.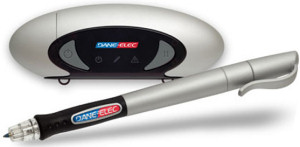 You write on a sheet of paper with the special pen and all your strokes are recorded in what looks like a paper clip, plug this clip into a USB port and then you can see what you had written on the paper on a PC screen. At this point it can be saved as a graphic or even a PDF file. Run another piece of provided software and it could even turn into text. This last piece of software works a little like OCR software works on printed output works on scanned input.
The 'Paper Clip' is 11x4x3cm indeed the back clips over the sheet or pad of paper. The pen looks like a decent felt tip pen and indeed one end is indeed that, the other has several batteries and other electronics that send your pen stroked to the paper clip. Remove the cap off the paper clip and a USB connection is revealed this is oversized so you will either need two clear ports or the short USB extension lead provided.
However when you first fight your way into the terrible unopenable blister pack you have a problem the 'Paper Clip' needs charging for six hours before it will work. However you should use part of this time to study the PDF files on the 'Paper Clip' that is actually a 1GB memory stick.
There is no printed documentation at all. On the back of the blister pack are five bullet points in English that give you an idea of what the product does but nothing to say how to do it. There are various PDF Quick Start Guides and a Quick Start manual. Surely at least a couple of getting started sheets could have been put in the blister pack.
Normally a good pair of gloves, my mum's old dressmaking shears are enough to clip round a long side of one of these packs but here the sides are tightly cut and the only way to enter was to cut totally across the whole pack and then delving inside to the two protrusions to extract the 'Paper Clip' and the pen.
There are four more words on the front of the pack Write, Upload, Find, Edit. These are the actions that you should be able to do after the six hours and with some practice as it needs to learn your handwriting so just like speech software the quickest solution is to edit. The best solution is to train.
After charging press the left side button and wait for the left LED to glow unblinking. Each pen stroke produces a flash from the centre LED. Once you have written your note or come to the end of a page save your work. If you have more to write the action of clipping another sheet to your pad will automatically open a new file.
Move the 'Paper Clip' to a PC plug it in and when Windows comes up with a list of choices click on Open Pen and Ink Viewer. If you do not have Java running this will take a bit longer. Then click on the file you want and it will appear on the screen. At this point it can be saved as a PDF or emailed. It is technically a graphic and so therefore this could be a sketch or a diagram. However to make progress with the written word will require installing another piece of software that is stored on the 'Paper Clip' that is My Script Notes, to use it for longer than a short trial period you have to register it, not something I am a fan of but it is not that taxing here and you only give your email address.
One of three styles should be recognised, Capital Letters, Hand Print or natural handwriting. Whichever you use you will need to train it get used to how you do things. It is stated to recognise 17 languages, I stuck with English. My first short text was 'Take the pen and write'. I got 'Take th6 pen anis write'.
I tested it on a new Vista notebook that did not have Adobe Reader on it so that needed to be downloaded and an XP PC that did. This product needs written documentation and maybe a CD with all the programs including a copy of Adobe Acrobat Reader on, and, certainly, far more user friendly packaging.
Doing my Internet searches found the Dane-Elec Zpen at a best price of £71.85 including shifrom the first link below.
http://www.amazon.co.uk/gp/product/B001DMN15A?ie=UTF8&tag=gadge0a-21&linkCode=as2&camp=1634