Belkin Surge Strips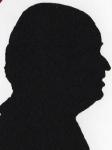 A lot of people think of a surge strip as a gang socket and little more. There is a vast difference as anyone who has had an electrical surge will know to their cost. However until now most surge strips looked like gang sockets even if they sometimes had extras like Ethernet and phone protection, I remember one where a couple of the sockets rotated to allow for power bricks that were above and below the actual plug. Here however are two strips from Belkin that are a totally new design and format.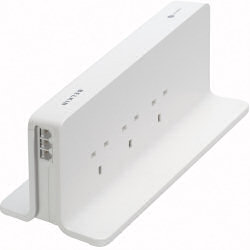 Belkin Compact 6 socket
This unit is an upturned 'T' with three sockets either side of the base this could sit on the floor or a desk or other flat surface and the plugs allow for both above and below plug power bricks of a reasonable size as the actual plugs are mounted mid way. A cable management clip is supplied in the box allowing all the leads to be kept safely together.
There is a 2 metre lead with correctly fitted 13amp plug, the actual protection provided 2190 Joules. The maximum spike current is 49,500 amps. The response time is stated to be <1 nanosecond and for mere mortals (like me) that means a billionth of a second.
There is an illuminated on/off switch so all the devices to a PC suck as printer, monitor and PC etc can all be powered on/off at the same time if required. At the opposite end to the power lead are one phone input and two phone outputs.
Should you suffer loss there is £100,000 Electrical Insurance, however I am sure no one ever wants to claim on this as that would mean the product has failed to protect. Finally the dimensions it is 27x12x12cm. Best Price is £16.43 from
http://www.dabs.com/productview.aspx?Quicklinx=4JVR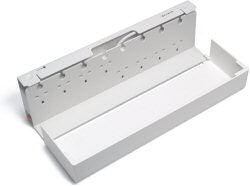 Belkin Concealed 8 socket
Same new range as the unit above but this unit has 8 sockets all in a row with four mounted at the top and four at the bottom in a line. This arrangement allows for power bricks that are mounted above and below the plug.
All the plugs can then have the wiring routed behind the line of plugs and then the whole things closes to allow all the sockets to disappear from view.
The surge strip can then be stood on the floor or desk etc but in this case could be screwed to a wall for more permanent fixture.
There is a two metre power lead out of one end and the other end has one in one out for phone/modem/fax and coaxial protection as well. Like the unit above it also has an on/off switch at the end to power on/off everything at one go.
Energy dissipation of 3560 joules, spike current of 90,000 amps, response time <1 nanosecond and noise filtration in the 150kHz-100MHz range up to 70 dB reduction.
When closed the box is 46x16x10cm, when the lid is lifted to reveal the sockets the 10cm height is raised to 23cm.
The electrical insurance cover with this unit is £175,000.
So two rather different surge strips from Belkin certainly enough to stop them being called a gang socket. Both not only give electrical plug protections but also phone protection also and the second unit also protects your TV.
Best price is £26.46 including Free delivery from the first link below.
http://www.amazon.co.uk/exec/obidos/ASIN/B000S2O0KG
http://www.belkin.com/uk/surgeprotection/compact/