Casio Watches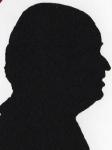 Apart from Cameras and Keyboards Casio also make watches and here I am looking at two from different ranges both of which are new to the market.
G-Shock (G-011D-4AVER)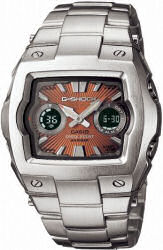 Certainly a 'man's' watch and as supplied it is for a man with a large wrist. I worked out that I would need to remove four links to get it to fit my not that delicate wrist. It is also quite weighty at around 150grams.
The model I have is chrome with a nearly square orange dial. It has hands but in truth is still a digital watch. In the normal display a small circular window at 9 displays the seconds, a similar window at 3 displays the day of the week.
Setting is via four buttons on the sides at 8, 10, 2 and 4 and when first shipped you will need first to set your home city from a list of 30 that cover every possible time + or - from GMT.
During setting you set the digital time and date etc. Then you move to analogue mode and using the buttons advance the hands to the correct time. I found after that that they kept perfect time. It seems strange to have analogue hands that are controlled by a digital watch.
Of course no decent digital watch today just tells the time. It also has a world time mode, countdown timer, stopwatch mode and various alarm (up to five) modes. It can be illuminated manually or automatically. All is described in the tiny 8x5cm manual the first 48 pages are in English but I would advise you to have a good pair of glasses or a magnifying glass nearby as the type is tiny.
Casio watches are not cheap but during my test period it has kept perfect time. It is shockproof and although I have not tested this it is meant to work up to 200 metres under water. The stated price is £129.99
http://www.casio.co.uk/Products/Watches/G-Shock/
Baby-G (BG-1223G-7VER)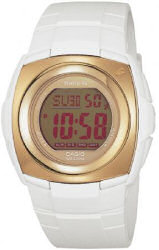 This is an altogether smaller and lighter watch, possibly designed for a lady however it is large enough to be unisex.
The strap is white as is the sides of the unit, the back is metal while the front is a gold colour. Using my 'normal' size wrist it fits me on the 4th or 5th hole of the strap. The strap has a total of 11 holes.
This is a digital watch with a dial of 1.7cm across and close to 1.5cm tall. Setting the watch is via the four buttons at 10,8,2 and 4. There is a 34page user guide and it is the same minute size as with the G-Shock above.
Setting is the same with City being set before time, both the G-Shock and the Baby G have the ability to have 'daylight saving time' (summer time) so in theory once set you never need to reset until the battery runs out.
In normal useage you have dark numerals on a light background but at night or in poor light you can press the button at '2' to give (say it quietly) pink numerals on a dark background.
The normal display is time with day of week and day of month above along with the seconds. It has the same modes at the G-Shock World Time, Stopwatch, Countdown, five Alarm modes and like the G-Shock is stated to be waterproof to 200 metres or as stated on the rear of the case 'water resistant to 20 bar'.
Again not a cheap watch but one that may well be a hit with the more sporty ladies. The stated price is £59.99.
Both these are very new and as yet I have not found either listed on any Internet sites.
http://www.casio.co.uk/Products/Watches/Baby-G/BG-1223G-7VER/At%20a%20Glance/