Casio Exilim EX-Z75 Digital Camera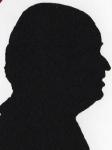 A name that has been in consumer electronics such an keyboards, watches and even handheld computers for many years but they are also a name in digital cameras.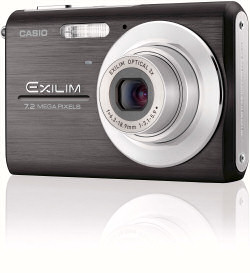 While 7.2mega pixel may be considered by some manufacturers to be 'entry level' the extras within the Casio EX-Z75 unit make this far from the case here.
It is 10x6x1.7cm when closed add another 2cm for the lens extension when ready to shoot. It is silver grey and weights less than 150grams.
Moving quickly round the camera, the base has tripod anchor point as well as a USB socket that also doubles as an A/V outlet and the cover for the solid battery and optional SD card, the right side has wrist strap anchor point and the left side has no connections. The face has the flash above and to the left of the lens at the nearest point it is 2cm away. The 3x optical zoom lens (f6.3-18.9mm) is covered when shut. The top has a somewhat fiddly on/off bar and a larger slightly more protruding shutter button both have a silvered effect.
This leaves the rear of the camera and that is dominated by a 6.5x3.5cm TFT display and as it seems to become almost standard on these pocket cameras no separate viewfinder so taking images in bright sunlight can be tricky as of course can be reviewing them but you can also turn away to get a better view. To the right of the TFT are six buttons and the ubiquitous five position joystick to control everything on the camera.
The best 7MP mode is stated to be fine for an A3 print giving 3072x2304 there is also a 3:2 and a 16:9 mode at the same image size the latter being designed for display on a HDTV. There are also 5MP, 3MP, 2MP and VGA these are 2560x1920, 2048x1536, 1600x1200 and 640x480. Each size has 'fine' 'normal' and economy compression.
The unit comes with anti shake technology that I can verify works well. I was at a gig recently sitting slightly behind and around eight feet from one of the musicians. An original tune was announced but due to someone coughing nearby missed the name. I took a zoomed image of the top of the sheet music and while the name was obviously that it was not readable but when I zoomed into the image so just that part of the image was viewed it was clearly readable, all this with a hand held position and a hand written score.
I found the flash worked well certainly far beyond the two metres of some similar sized cameras from other manufacturers. From the multitude of things adjustable in the menus I pick the ability to change the level of camera sounds while you often want a sound there are certainly times when you require it to be quieter than on other occasions.
There are I believe 32 scene modes and while for the novice these might initially be intimidating a perfectly acceptable image can be achieved using the automatic settings.
By no means is this an 'entry level' unit it can and does take good quality images without you having to have a large bulky unit and it can easily be slipped into a shirt pocket when not in use. As with almost all digital cameras it can take movies.
Of course no SD card or case is provided both are essential as the TFT would soon be scratched and taking more than a few images on the internal memory is impossible. Some dealers will do a bundle deal but a 1GB SD card should cost you well under £10. They do a bright red underwater housing at around £99 that is guaranteed to work up to three metres ideal if you are into snorkelling.
Doing my Internet searches found the Casio EX-Z75 for a best price of £89.99 including delivery from the first link below.
http://www.amazon.co.uk/gp/product/B000MVWE8I
http://www.casio.co.uk/Products/Digital%20Cameras/Exilim%20Zoom/EX-Z75SRDDA