Casio Exilim EX-Z77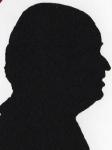 This is a very thin and very capable digital camera. I am however not sure why the name makes it sound like a secret project, maybe if the name was something more friendly.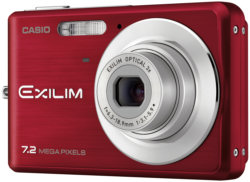 At 132grams it is light and at 9x6x1.5cm easily small enough to fit in a pocket or purse. When it's 3x optical zoom lens is fully extended it adds another 2cm to the width.
This is a 7.2mega pixel offering and according to some camera manufacturers this would almost be sub entry level, however I can assure you size is not everything.
Doing a quick round of the camera, the base has optional tripod anchor point, the dual A/V and USB output port and the door behind which lurk the lithium ion battery and SD/MMC card slot. On the right side is the eye to attach the wrist strap to, the left side has nothing, the face has the lens with the excellent flash above and to the left.
This leaves the top and the back. The top has two bar buttons the smaller one for on/off and the larger and slightly more prominent for the shutter. The rear is dominated by the 5.5x3.5cm TFT display to it's right are two buttons for wide angle and telephoto, below this another pair of buttons for viewing and taking images. Below this the ubiquitous five position joystick with another pair or buttons menu and best shot to complete the controls. The case of the unit is brushed aluminium. I see it is also available in blue, pink, red and black.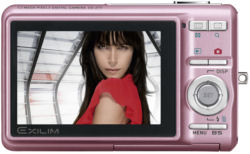 I found the menus easy to navigate and changing things such as resolution and compression mode very easy.
To say this is a camera for the real novice might seem strange but it has an 'Easy Mode' where your only choices are image size, flash yes no or auto or self timer. However I would encourage even the total novice to soon bin this and even if they use what is called snapshot mode they will quickly and simply learn how to start getting the best from their camera.
Pressing the Best Shot button gives you a choice of 42 pre defined modes, all the normal ones like portrait, snow scene, night time etc as well as many others including text and the ability to pre define a new mode should there be any type not yet defined. When you press the BS button you see three rows of five scenes with a likely shot shown as well as a word description for each one when highlighted. There is even a special mode for You Tube images.
Even in snapshot mode you can adjust resolution, flash, face detection, anti shake, ISO sensitivity, AWB and more from a top level menu shown down the right side of the display and all the possible options move left when you highlight that option.
Images taken were excellent in daylight, poor light or flash. Movies have to be selected from the BS menu and while the output is okay it's not up to that of the recently reviewed Canon Ixus 860 mind you it uses less than 20MB a minute and the Canon used 30MB minute in it's economy mode.
The only printed documentation is what is called a basic reference and this is in no less than 19 languages, however they are in groups of three so as far as English goes a sentence in English, a sentence in Spanish and then in French, yuk.
o my normal moans about no SD card and case still apply as well as the real manual being in PDF format, these days it is not necessary to own a PC you could have a camera and one of numerous printers with an SD slot, the basic reference is probably just adequate but no more. However there are many good points and once you purchase a good sized SD card and a case only the yuk basic reference as a minus.
Doing my Internet searches found the Casio Exilim EX-Z77 at a best price of £93.50 including delivery from the first link below.
http://www.amazon.co.uk/gp/offer-listing/B000TZQKB4
http://www.casioonline.co.uk/Digital_Cameras/Exilim_Zoom/EX-Z77SREDA/