Casio PC Tag Writer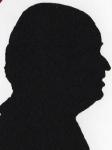 This is a standard mouse connected via USB that has a thermal printer inside. It can print on a range of sized roll media. Certainly something that you do not come across everyday.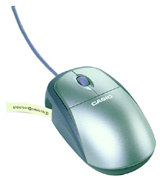 The mouse itself is a standard three button mouse plug it in and it works. However to use the printer inside you first need to install the software. For me this took four minutes and after a reboot you plug in the mouse. Total hard disc space taken was 53MB.
I found two problems it wants to install a system file but the installer can't find it, it's there but you need to navigate to it. You now have a line of six icons just above the tray. If like me you want to print something just to see you then open the base of the mouse and insert the roll of tape, the instructions are not that clear (small type) and in fact they suggest push to the left when I eventually found it was to the right. However the real problem was there are appently three models and it defaults to the C100 when this is the C-50. This naturally told me there was a problem and refused to print.
So this Casio product has a bug in the installer where it can't find a file, defaults to the wrong model and tells you to push something to the left (instead of right).
The mouse is 12.5x7x3.5cm so only the size of a full sized rodent. It is however a little heavier than most at 115grams.
As a mouse - apart from the slightly heavier weight - you will notice no difference to any other rodent. As a printer you can print to it as you would a Dymo unit, short phrases the software works well enabling you to have the full range of Windows Fonts - something a Dymo unit does not - and you can centre - bold - italics etc.
Entering the phrase is simple and you also have it displayed as it will look in another Window on the screen. It works with Windows 98SE or later, I ran it on XP using the Windows 2000 system file. I did not try it on Vista but I do not see any reason why it should not work.
This is a very simple utility and it will load in the tray each time you boot. The six actions of the mini icon bar are Feed, Print, Append, Input Panel, Properties and Help. You only get an icon for each but move the mouse over any of them to get an explanation.
The instructions are four sides of paper in four languages however the sheets are 41x60cm and in four closely printed columns. So in fact you probably have more information than in a lot of User Guides.
Yes the setup instructions were wrong in saying push left but as pushing left was not possible and right was this was a simple mistake. The software problem should not be there but at least the file was there you just have to browse the CD to find it. The code was bad using the same software for three models of the same type. Simple solution why not get it to ask you which model you have as part of the install.
Is it useful well if you use a Dymo labeller then it probably is, the thermal paper rolls are available in packs of three for $14 US. They have a sticky back (peel off the other half) and it sticks so ideal for files etc.
Being able to use the full range of Windows fonts in all styles could also be useful and of course it is always to hand. It does not appear as a printer in Windows Control Panel so there is no danger of trying to send that forty page document to print on it.
It is available from the link below for $29 US if you get one I would certainly order the rolls at the same time. Shipping is a flat rate of $3 for however big the order so mouse + rolls + shipping is $46 US that's about £23.